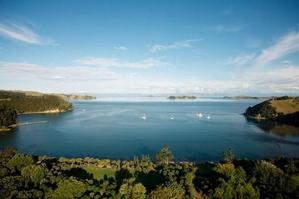 Many readers will remember the very cool restaurant Musical Knives on Ponsonby Rd. The chef, Peter Chaplin, was famous not only for his delicious vegetarian food but also having been the personal chef for The Thompson Twins, Chrissie Hynde and Madonna. Well, the good news is that he has resurrected the famous Musical Knives' Valentine's Day menu for Sunday, February 14 and adapted it into a long lunch at his new Rock Cafe and Cooking School in Mt Roskill. The menu sounds mouthwateringly without a mungbean in sight. To find out more and about other special nights, including a Van Morrison Dinner, ph (09) 624 5955 or go to rockcafe.co.nz. Rock Cafe, 8 Carr Rd, Mt Roskill.
Fresh and fruity
At Christmas the coolest gift to give was a cow - or a goat. Well now, for Valentine's Day, the gift du jour is a fruit tree. Yes, ChildFund New Zealand has had the bright idea that instead of giving chocolates to your loved one you can pay for a fruit tree for children and families living in poverty. Actually, this is just one of the great ideas in their Gifts That Grow catalogue.
Check it out at childfund.org.nz or call 0800 223 111.
Pack a picnic
If you're looking for an original way to celebrate Valentine's Day how about going on a mystery tour to the far end of Waiheke Island? Away from the madding crowds, you can lay your blanket on the beautiful, sheltered Man O' War Bay (pictured), use the public barbecue to rustle up a gourmet treat and buy some wine from the newly opened Man O' War Bay Vineyard cellar. Yes, nestled among the native trees in this secluded area is a cabin where you can buy olive oil, honey and wine from the farm. This vineyard has recently been nominated as one of the "top 10 New Zealand wineries to watch" by The Age. Open noon-6pm Fridays & Sundays until Easter, Man O' War Bay, Waiheke. For more info, go to manowarvineyards.co.nz
Wherefore art thou ...
... Romeo? There may not be a wine named Romeo (that we know of), but we love this T'Gallant Juliet Pinot Noir 2008. We fell for the bottle first, but a taste of the wine - with heady fruity flavours of cherry fruit, spice and macerated plum flavours - completed the seduction. The grapes were grown in the Yarra Valley and Mornington Peninsula, near Melbourne, where T'Gallant has a rustic, yet elegant, winery. In New Zealand you'll find it at Agents & Merchants, and Rackets in the Britomart precinct, and Longroom, Ponsonby.