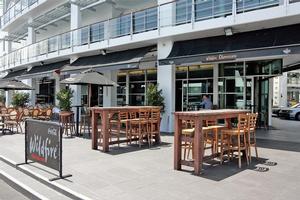 What's a girl to do for Valentine's Day without a valentine? Not being the type to miss out on a celebration just because I don't qualify, I'm a fan of getting a group of 8-10 singles together, booking a private dining room (away from all those swooning couples) or large table and embarking on an evening of divine food, wine and lively conversation, happy in the knowledge that "being single" is merely a state of mind. Many Auckland restaurants offer special menus for V-day, so check out some of these options, gather a group together and get flirty over dinner!
Vinnies
166 Jervois Rd, ph (09) 376 5597
Vinnies offers one of the most gorgeous private dining rooms in Auckland. The Kahikatea Room, with its "Kahikatea twig" ceiling, huge cluster of candles on the centre table and Geoff Scott's incredible food and wine selection, this is the perfect venue for a Valentine's Day group dinner. A four-course menu will feature fabulous options including West Coast whitebait, five-spice quail, venison and hapuka and a pink, romantic dessert creation of raspberries and rhubarb.
$99pp.
Tanuki Sushi and Sake Bar
319 Queen St, ph (09) 379 5353
The rustic warmth of this country-style Japanese eatery is perfect for a casual group dinner. They have private areas for larger groups or I dare you to hire out the new karaoke room. What better way to get to know each other than to sing badly together after a few too many sips of sake?
Bowmans
597 Mt Eden Rd, ph (09) 638 9676
At Bowmans you have the choice of two private dining rooms - the Burgundy or Valentino. Both are resplendent with sparkling chandeliers, white linen tablecloths and are civilised, grown-up and fabulous. On offer for Valentine's Day is a $80pp set menu.
Rocco
23 Ponsonby Rd, ph (09) 360 6262
Rocco is famous for creating a casual, sociable atmosphere and the upstairs private dining room is great for groups of eight or more and even has its own lounge. It's dark and moody and very intimate without being intimidating. For Valentine's Day the Mediterranean-inspired menu will feature three courses with a glass of bubbles on arrival for $80pp.
Wildfire
Princes Wharf, ph (09) 09 353 7595
The primal nature of this Brazilian barbecue restaurant is sure to get even vague acquaintances feeling more sociable! For a set price (starting at $38.50) knife-wielding waiters will slice endless amounts of sizzling, skewered meats directly on to your plate. Groups of diners are seated around large tables and the atmosphere is lively, noisy and fun.
Java Room
7/317 Parnell Rd, Auckland, ph (09) 366 1606
The Java Room has one of the best outdoor eating areas in Auckland. The elevated, partially enclosed veranda is so reminiscent of the "warungs" and other small, local restaurants you find across Southeast Asia that you'll be transported. Java Room food is sensational too!
Wine Chambers
33 Shortland St, Auckland, ph (09) 309 8191
If your group consists of some serious wine buffs, then consider the dining room at Wine Chambers as a venue. They have an excellent wine list, two private dining spaces to choose from and while not usually open on a Sunday, Wine Chambers will open for 14 February and offer a special menu at $64.50 pp for three courses.
Ella
118 Ponsonby Rd, ph (09) 378 7979
This small, intimate restaurant has a private dining room upstairs, all plush with ruby-red velvet bench seating, softly lit with candles and looking out over Ponsonby Rd. The menu on Valentine's Day won't break the bank and you can splash out on some of the French Champagne, available by the glass. Surely one of the prettiest and cosiest dining rooms in Auckland.
Dine
SkyCity Grand Hotel, 90 Federal St, Auckland, ph (09) 363 7030
Walking into the private dining room at Dine, you know you're in for a grand old time. There's a stately, almost boardroom-like quality to the room with its high-backed chairs and the marble bench gleaming with glassware. Seating from 6-16 and with a special menu on Valentine's Day of three courses, complete with the latest craze of amuse-bouches (mouth pleasers), palate cleansers and petits fours, it's a steal at $135pp.
Pearl Garden
Level One, 1 Teed St, Newmarket, Auckland, ph (09) 523 3696
After nearly 35 years in the business, Pearl Garden has seen its fair share of group dinners. Tables here can take up to 12 diners and the traditional way of sharing dishes works well with this delicious Cantonese cuisine. Take note: Chinese New Year falls on Valentine's Day this year, so you'd better book!
So remember, this Valentine's Day you don't have to stay at home if you're single - you can book a room (dining room, that is) and kick up your heels with a great group of people.