Championship wide open with any team capable of a podium finish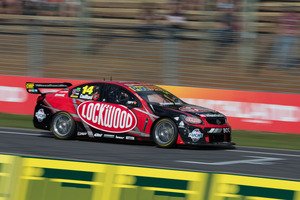 This year's V8 Supercars championship is on track to be the most competitive in years as it's just the second time in over 50 years that 10 different drivers have stood on top of the podium in eight rounds.
Jamie Whincup, Will Davison, Mark Winterbottom, Garth Tander, Chaz Mostert, Craig Lowndes, Shane van Gisbergen, Fabian Coulthard, Jason Bright and Scott McLaughlin have all tasted success.
Coupled with this stat, is the fact seven teams - Red Bull Racing Australia, Tekno Autosports, Brad Jones Racing, Fujitsu Racing GRM, Pepsi Max Crew FPR, Holden Racing Team and Dick Johnson Racing - have won races.
At this weekend's race at the Winton 360 there will probably be another new winner at the Victorian track. With 19 of the 28 cars on the grid using Winton as their home track, the odds are stacked in their favour.
However, for Ford Performance Racing it's not been a happy hunting ground, as they've only managed one race win in 10 years.
High-flying Kiwi racer Fabian Coulthard is pretty chuffed with his fifth place in the championship heading into the back half of the season. The Lockwood Racing Holden driver has three race wins already notched on his belt and feels he and the team are due for another.
"The object is to maximise the weekend and get as many points as possible," said Coulthard. "The car's been very good each track we've put it on. I now no longer have to doubt the car and I feel I can comfortably be in the top 10.
"That's good for me and gives me a lot of confidence that I can qualify on pole and win races. Confidence is good and all we need to do is fine tune the car and think about strategy."
In qualifying he averages around fourth fastest each time he goes out and Winton is a good track for Coulthard where he's had success in the past and knows the layout.
Another Kiwi who's looking forward to racing is Scott McLaughlin who is keen to get back inside the top 10 in the series.
The 20-year-old started the year with a debut win at Pukekohe.
The Gary Rogers Motorsport driver won again at the last round in Ipswich, which moved him into 11th on the table.
"I'm really looking forward to the weekend especially as our cars are good in cool conditions [14 degrees Celsius]," said McLaughlin.
"We've been qualifying in the right spots so we haven't been in positions to be hit as has happened in the past. I've been working on my qualifying and it's starting to pay off," he added.
Shane van Gisbergen slipped down the table to seventh after a very average hit out last time finishing 17th and 11th.
"We didn't do ourselves any favours and completely missed the boat last time out," said van Gisbergen. "Hopefully we've done our homework and we'll go a bit better this weekend.
"I've never really gone well at Winton but it's an awesome little circuit. I'm fully confident though that in our car this year we'll be back at the front and I can get back into the top five."
The man everyone's trying to chase down, Red Bull Racing Australia's Jamie Whincup, along with his teammate Craig Lowndes who's just 129 points further back, has a good record at Winton and will be chasing his own record of the number of poles set.
The Aussie has equalled his 2010 record with 10 poles so far this season and with six rounds to go it's odds-on he'll park his Holden on P1 at least once more this year.
FPR drivers Will Davison and Mark Winterbottom are both in the hunt for a championship this year, currently sitting third and fourth respectively. Winterbottom has found some good pace in his Ford and is a genuine threat this year.
Top of the table
1. Jamie Whincup 1803
2. Craig Lowndes 1674
3. Will Davison 1592
4. Mark Winterbottom 1561
5. Fabian Coulthard 1493
6. Jason Bright 1471
7. Shane van Gisbergen 1440
8. Garth Tander 1438