Only 12 points separate them as top two fight for victory in the NZV8s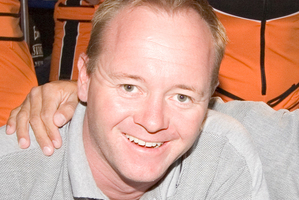 There may not be many of the new generation NZV8 cars contesting this year's championship, but that doesn't make Jason Bargwanna's job any easier as he arrives in Taupo for round five of the national championship.
Not only is there a bag full of series points on offer, but drivers will be racing for the Jason Richards Memorial Trophy in the final hit-out of the weekend.
The trophy commemorates Kiwi V8 Supercar driver Richards, who died of cancer in 2011 aged 35.
Richards, from Nelson, claimed three New Zealand Touring Car Championships between 1999 and 2001 and went on to a career in V8 Supercars.
Bargwanna, in one of the new generation Holdens, has been hounded by young Hamiltonian Martin Short, also in a new car, all season and holds a slender lead of 12 points over the Toyota driver.
"When there aren't that many cars on the grid people think it might looks easy," said Bargwanna. "But because there are so few cars, every single little point means so much in the championship.
"Even if the opposition is having a bad day they are still only a few points back from you. I remember one of the best F1 seasons I ever watched was Senna and Prost back in the day.
"That season there were only two cars in the race. There might have [been others] on the grid but the real battle only came down to two people. Those two guys went head-to-head all season."
Bargwanna and Short have been in a similar situation all season long, and it's likely to be the same in Taupo.
Short knows he has to put it all on the line this weekend if he wants to get ahead of Bargwanna in the points before heading to the last round at Pukekohe, April 12-14.
"I'm feeling really positive going into Taupo," he said. "I've been training hard and I think my mindset's quite good. We've always gone quite well at Taupo so, bring it on".
In the third race at each NZV8 round, the fast new cars start behind the original-specification cars and also have to make a pit stop to change a wheel. It makes for a fair amount of passing and action.
Short will be joined this weekend by another Richards Team Motorsport Toyota, piloted by Brent Collins, who won the first Toyota Racing Series in 2005.
He has had little top-flight racing in recent years, and is keen to show the fans he's still got what it takes to mix it with the rest of the field.
"I've been karting and I've been racing a Mazda RX7 with a V8 engine in historic events, setting lap records at Timaru and Teretonga," saidCollins.
Nick Ross is third in the new-car class, 96 points behind Short.
Teenage brothers AJ and Brad Lauder are first and second respectively in the original cars category, and Varney is third.
These cars are also eligible for the Jason Richards Memorial Trophy and one could well win it, as they do not have to make a pit stop.
It's the final round of the Formula Ford championship at Taupo, with Brendon Leitch holding a slender three-point lead over rookie James Munro.
Also finishing at Taupo is the Endurance championship, and the programme also includes Formula First, Pre-65s and different categories of BMWs.
NZV8 points
After four rounds
New generation cars
1. Jason Bargwanna 624
2. Martin Short 612
3. Nick Ross 516
4. Hayden McKenzie 168
Current cars
1. AJ Lauder 599
2. Brad Lauder 519
3. Shaun Varney 469
4. Straun Robertson 392