Focus on Aussie-based Kiwi V8 Supercars drivers as they hit Hampton Downs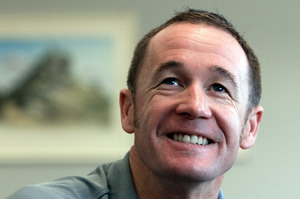 Greg Murphy is keen to make amends for missing out on the V8 SuperTourers series title last year.
A lot of focus this weekend will be on how the Aussie-based Kiwi V8 Supercars drivers get on at Hampton Downs, especially Shane van Gisbergen and Murphy.
"It's come around real fast," said Murphy. "I know how much effort all the teams have put in to get ready for the new season. It hasn't been much time and it's been a new challenge.
"We're really excited and it's going to be bigger, better and badder than it was last year. There's a couple of new names involved and everyone's keen to get out on to the track and get going again."
Scott McLaughlin, who recently signed with Garry Rogers Motorsport in the main game across the Ditch, is the defending champion.
Spare a thought though, for ex-NZV8 champion and early 2012 pacesetter John McIntyre who won the sprint component but had a massive crash during practice at the last round in Ruapuna.
"People probably think I'm crazy to say this, but the crash has been positive because it made me think about what I really want from my racing over the next few years," said McIntyre.
He and his team have been working hard during the 11 weeks since the crash. Not only has McIntyre been healing from his injuries - an anterior shoulder dislocation and rib damage - he's been rebuilding his severely damaged Falcon car.
"It took me two weeks to even be able to write. I'm not saying I want to crash again, but you do look for the positives in any situation and ending last season in this way helped me see we had overcomplicated the running of the team and the two cars.
"It's more exciting coming into this season knowing how competitive it's going to be and it's great to have what we think is quite a well thought-out game plan. Of course everyone wants to win and so do we. The crash helped us focus on a few things that weren't going right and now we think we've got them right, but the competition will be the deciding factor," said McIntyre.
Andy Booth is also a former NZV8 champion and finished a close fourth behind McIntyre in the inaugural season.
"I was gutted to have led so many laps in several races last season without turning that speed and performance into a race win," said Booth.
"Knowing that you turn up to each race with exactly the same opportunity to win as every other car, with us all in the same spec car, makes it hugely satisfying when you run at the front. Now the competition is only going to get stronger and we're going to have to work really hard to keep at the front."
With fifth place finisher last year Jonny Reid not contesting the series in 2013, it's up to his old teammate at International Motorsport, Ant Pederson, to fly the flag. The 24-year equipped himself very well bringing his car home in sixth place overall.
Pedersen won the feature race at Hampton Downs last year.
Teams will spend today testing before qualifying and contesting three races tomorrow.