Kiwi star will drive Holden in Supercars series next year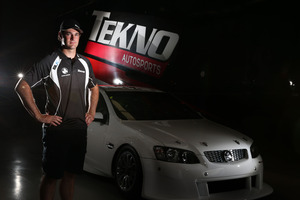 Shane van Gisbergen always said leaving the V8 Supercars wasn't a permanent decision. However, you'd have thought all the hype that he'd be racing in V8 SuperTourers ... no, the New Zealand Rally championships ... possibly the D1NZ drifting series ... or maybe speedway ... would have left little room for anything else.
Well, the busy Kiwi is getting even busier. In an exclusive chat with Driven earlier in the week, Tony Quinn - the Scottish-born multimillionaire behind VIP Petfoods and Darrell Lea Chocolates, who's a major backer of Aussie motorsport - revealed that not only would Van Gisbergen drive at the Bathurst 12-Hour Endurance event, he will also be back in a V8 Supercar.
When I spoke to Van Gisbergen at the last round of the 2012 V8 Supercar championship, he wanted downtime. There was also a remark from the young man that made a few sit up and wonder if his sabbatical might not last too long.
I asked if he'd miss V8 racing. He answered, "Ask me in a couple of months' time when I miss it all.
Maybe I'll be able to answer the question when I've had time to think."
The thinking is over. Not only will Van Gisbergen race in the domestic V8 SuperTourer series, he's heading back across The Ditch to play in the big boys' game again.
First up he will race at Bathurst in a couple of weeks with Quinn and his son, Klark, who recently was crowned Australian GT champion.
"We've [Tony and Klark] got a pretty good track record at Bathurst," says Quinn, "and driving a Porsche is a good thing as they're pretty reliable. It may not be as powerful as some of the others but the fuel economy will be better. The only problem we've really got is the difference in size.
"We've got a mammoth Kiwi, a little Scotsman and a little Australian. That'll be the only issue but the seat is adjustable to a certain extent.
"What won't be an issue is that none of us has a big head, so there'll be plenty of headroom."
Quinn says he'd struck a deal with Van Gisbergen to race the 2013 V8 Supercars series in the new Car of The Future for Tekno Autosport. The Kiwi will drive a VIP Petfoods-liveried Holden alongside Jonathon Webb.
"We started talking about it from the later half of October last year. It wasn't so much with Shane but more with Holden Motorsport.
"Obviously, he's going from a Ford via a Mercedes to a Holden. I had nothing to do with the perceived issues of last year and as far as I'm concerned VIP Petfoods is a big supporter of V8 Supercars.
"We want to be up the front and when the opportunity came along to get a top-five young driver we went for it."
Quinn brushed aside concerns about possible legal issues surrounding Van Gisbergen's move.
Quinn has known Webb and his team for a long time - the two, with Craig Baird and Klark, won the Dubai 24-Hour race in 2008.
Quinn has not bought into the Tekno team; he is the naming sponsor. When the V8 Supercars race in Austin, Texas, the car will have a new paint job promoting Darrell Lea Chocolates, which now sells confectionery in the States.
Another person who's happy with the deal is Van Gisbergen's manager, his dad, Robert.
"I've known the Webb family for a long time and they are very good people. They are a low-key outfit who have been after him for a while," Robert says.
"Shane doesn't want any drama, it's not the way he works. Holden have done a lot of work and are happy with the relationship and I reckon it'll be a good fit so he can just go racing."