Holden driver grabs fourth Bathurst title as wider field of manufacturers looms in future.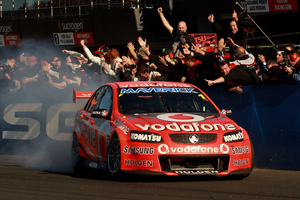 What a great way for the last truly Holden versus Ford V8 Supercars race at the Bathurst 1000 to end before the addition of new manufacturers next year.
TeamVodafone Holden driver Jamie Whincup, with co-driver Paul Dumbrell, clinched his fourth Peter Brock trophy after holding off a determined David Reynolds in his Ford by a mere 0.3s.
Whincup's team-mate Craig Lowndes, driving with Warren Luff, put on a spectacular display over the closing laps but had to settle for third.
It was the 50th anniversary of the Bathurst 1000, but this middle-aged race is showing no signs of slowing down. Every year the drivers treat it as a glorified sprint race and this year was no different.
"Those last few laps were so tough staying in front of Dave," said Whincup. "I had less than half a juice can of fuel left at the end.
"Paul did a great job and he [can] be my co-driver any day. Who cares about the championship right now, it's all about the 50th anniversary of Bathurst and we got there."
The race really fired up over the last 20 laps where four drivers were going at hammer and tongs. Each closing lap was being treated as a qualifying lap with Reynolds, after taking over from Dean Canto, at times forcing Whincup into uncharacteristic errors. Unfortunately he couldn't make it past the flying Whincup and had to settle for both his first V8 Supercars and Bathurst 1000 podium.
"A pretty close finish all right, but for me it was just a normal day at the office and the boys did an incredible job today," said Reynolds.
"I had a great race car at the end and it was so quick. You know Deano did a great job today."
Just behind those two James Courtney had Michael Caruso right under his boot lid with Lowndes closing on all four of them at over a second a lap.
With just five laps to go, Lowndes was looking for a way past Caruso, which he duly did and set off after the leading pair but ran out of laps.
"It was a tough day for Warren and I as we've been fighting all day," said Lowndes. "We were a little shy at the end and needed a few more laps to get in touch and challenge the guys in front."
The day for pole-sitter and championship contender Will Davison (with co-driver John McIntyre) held one bad thing after another such as spins, over-shoots, technical penalties, mechanical breakages - including no brakes at one stage - and an on-track coming together. They eventually limped home 24th.
Kiwi Shane van Gisbergen was well in the hunt at the halfway stage until SBR stuffed up their driver strategy, calling in co-driver Luke Youlden before his required laps had been completed. Van Gisbergen then had more than a mountain to climb and after some blistering laps he crossed the line in 12th. Greg Murphy and Owen Kelly clawed themselves up from 25th to 13th. Fabian Coulthard finished 23rd.
Standings
1. Jamie Whincup 2772
2. Craig Lowndes 2611
3. Mark Winterbottom 2440
4. Will Davison 2302
5. Shane van Gisbergen 2020.
Davison's nightmare: 'Zero brake'
Ford's Will Davison has narrowly missed being seriously injured after a horror Bathurst 1000 V8 Supercars endurance race at Mount Panorama.
Davison, who started the race from pole position and was the race leader in the opening laps, suffered a brake failure going into the fastest part of the iconic 6.2km circuit.
Coming into the kink in Conrod Straight, Davison was a passenger at nearly 300km/h as his Falcon flew through sand traps, narrowly missed another car as it crossed the track and kissed the wall as it came to rest near the final turn.
Davison was able to limp his stricken car back into the pits but it capped a shocking day out where co-driver John McIntyre spun under safety conditions earlier in the race and incurred a drive-through penalty for a pitlane infringement.
"I don't know, someone's got it in for me today," Davison told the Seven Network.
"I heard a big bang at the start of Conrod Straight and I thought it might have been the tyre but it was the rollbar breaking and cutting the brakeline in half.
"I went to just touch the break coming into the kink, just to the floor and I just pumped, pumped and pumped. Normally you'll get a bit of brakes, [but there was] absolutely zero brake, even when I was spinning.
"It's your worst nightmare, is that happening at that corner."
- AAP