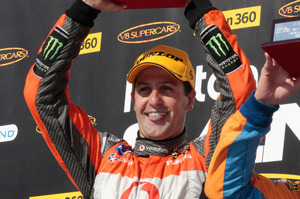 Three-time Supercar champion keen to get back to his winning ways.
The V8 Supercars are back on home soil for their annual sojourn across the Ditch and will be strutting their stuff for the last time on the streets of Hamilton. Fans of the big bangers are strongly advised to make it to the event as it's still up in the air as to whether the V8 circus will be back.
A new venue in New Zealand has yet to be announced so get there or miss out. Last year was a doozy of a weekend, as it had been a long time since we saw a Kiwi stand atop the podium.
That celebrated Kiwi racing outfit Stone Brothers Racing has produced another brilliant racer in homegrown Shane van Gisbergen. He emulated the great days of Pukekohe when Greg Murphy owned the New Zealand round, holding aloft the Mark Porter Trophy.
The 22-year-old is in good form at the start of the 2012 season and is 39 points behind FPR driver Mark Winterbottom in fourth place.
"I'm just trying to forget about winning [in Hamilton] last time. This is a new year and we have to go out there and try and do what we did last year and put two good days together," van Gisbergen told the Herald earlier in the week.
The ITM400 swings into action today and over 110,000 petrol heads, and the plain curious, are expected through the turnstiles over the weekend to experience the magic of V8 Supercars racing.
These bellowing behemoths are going to be hurled at speeds up to 250km/h around streets normally used for getting to work or going shopping. For the fourth year in a row, the roads of Frankton District will be pounded into submission by 650-plus horsepower booming Fords and Holdens.
Three-time V8 Supercar champion Jamie Whincup's four-race winning streak at the New Zealand round of the series was broken last year by Rick Kelly and van Gisbergen. The TeamVodafone driver, who only managed an 18th and a 23rd place finish, will be keen to get back to his winning ways.
"I use the phrase sweet and sour to describe my time at Hamilton," said Whincup. "It's been up and down. I wrote the car off the first year and didn't even make the race. I had unbelievably good luck winning four races in a row and then last year crashed in the pits twice and had a shocker.
"It so important to do well this year. To win the Mark Porter Trophy for the last time would mean a huge amount of value to any team."
Craig Lowndes has an added incentive to go well this year. He's yet to win in 11 attempts on Kiwi soil and while not desperate to win at the last confirmed New Zealand round of the V8 series, is very keen to get that monkey of his back.
"We work hard to get the cars right and you want them to work well on street tracks because they're all big events," said Lowndes. "It'll be good to get my first win of the season in Hamilton.
"The track has some great elements to it with the tarmac changes around the back section of the track and that chicane we all talk about and other great sections. I really enjoy racing here."
The FPR cars of Will Davison, who leads the championship, and Mark Winterbottom, who's third on the table, were on fire in the closing rounds of the series last year and have come out fighting this year.
Davison has had race wins in Adelaide and Tasmania while Winterbottom was the form driver at the Melbourne Grand Prix.
"We've started really well this season but Hamilton is a different test," said Winterbottom. "We struggled there last year but we've come a long way in the last 12 months. If we come away from Hamilton with a good result we'll be championship contenders."
The FPR cars, quick in practice, should do well today feeling out the circuit before tomorrow's qualifying. "Street tracks are all about confidence, there's no room for error," said Davison.
"You must risk everything to go well and when you're in a car you're confident with, it makes going fast easier."
A few other drivers are worthy of keeping an eye on over the weekend, chief among them HRT driver Garth Tander. He won all three races in 2008 but had, by his standards, a mediocre round last year finishing 18th and third.
Rick Kelly, who on his day can be devastatingly quick, won here last year in race one, was series champion in 2006 and shouldn't be taken lightly. He's 11th in the championship and will be looking to close on the leaders.
Finally there's Greg Murphy, who could be the joker in the pack. Having recovered from a back injury and missing the last round in Tasmania, Murphy has to reassert himself in the series and his home event could be just the tonic.