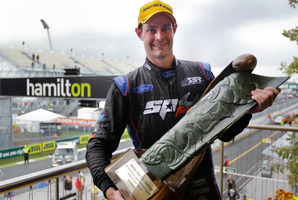 It is quite sad that next week's ITM 400 will be the last V8 Supercars event in Hamilton.
It is certainly the end of an era but for the sake of the sport in this country, I hope an alternative venue can be found in the coming years.
Motorsport is huge in this country and we need a race in New Zealand - given its popularity, we could probably even justify an event in the South Island as well.
I know the Australian drivers and teams love coming here and are constantly amazed by the passion, knowledge and support of the fans - comparable to any venue in Australia.
It draws the crowds; last year, despite less than favourable weather, more than 100,000 people attended across the three days, which puts it in the top echelon of all events on the circuit.
Regardless of what happens next week, I will take away sweet and sour memories of Hamilton.
My first few years were steep learning curves and I finished towards the back of the field, while 2010 was a huge disappointment. Looking back, I don't think we handled all the hype and attention leading into the event and it definitely affected my performance.
Last year couldn't have been more different; Saturday was a shocking day - after qualifying well and starting okay, we had a lot of dramas on the slick tyres in the rain. I misjudged things coming into the pits, hitting a crew member and a television cameraman.
Obviously I was pretty angry with myself and it was one of the worst days of my career.
Then the events of Sunday turned everything around and the noise of the crowd on my victory lap was unforgettable. It was also special to win for Ross and Jimmy Stone, their first major win on home soil.
As a track, Hamilton has its own unique features - good and bad. Certainly I know not many people enjoy flying through the chicane.
Still, the 3.4km circuit is relatively fast and has several genuine passing opportunities.
Last year, we raced on soft compound tyres around the Frankton streets, which gave more grip but also meant they wore out a lot quicker. This year, we're using a blend of soft and hard compound.
It's always fun to come home and race in front of family and friends, though I also seem to have a few more mates than normal, with ticket requests bringing people out of the woodwork.
Aside from the usual promotional events, this year there is a fun run around the track for all members of the teams this Thursday. There are some pretty fit guys among the drivers but it is guaranteed to be the slowest lap of the weekend.
Holden fans still tend to outnumber Ford supporters on this side of the Tasman, probably because of the Greg Murphy factor and all his wins at Pukekohe in the past decade.
But I'm sure those in blue will have plenty to cheer about this weekend and you can feel the Holden dominance of the last few years is being seriously challenged.
I know this event has special significance for Ross and Jimmy, being close to where they grew up in Pukekohe, and I will be doing everything I can to give them another great result.
Racing is in their blood and they have an intense will to win but they are also pretty supportive all the time.
Like any boss, they are not happy when I make a mistake but they understand that crashes will happen in this sport and it is part of the game.
Just hopefully not next weekend!