Click here to watch a live stream of the debate starting at 2pm from YouTube.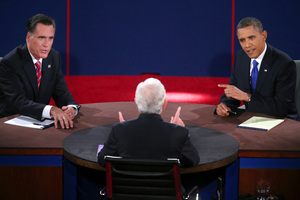 Romney's binders. Big Bird. Simpson-Bowles and Benghazi. The first two American presidential debates of 2012 have been full of meme-worthy moments for political junkies, and it's likely the final debate will generate a few more buzz terms.
US President Barack Obama and Republican challenger Mitt Romney are set to meet in their last debate before the Nov. 7 election, at Lynn University in Boca Raton, Florida. The focus of this debate is meant to be on foreign policy.
Follow along below as we live-tweet the debate with the latest reaction and commentary from around the globe: