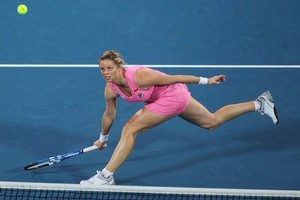 Kim Clijsters says she didn't win three US Open tournaments and 40 titles overall in her career while worrying about the opposition.
She'll take that thought into the Australian Open, where her first-round match tomorrow against Dinara Safina will feature two former No 1-ranked players.
Clijsters said yesterday that despite her 7-2 record against Safina, the match against the tall Russian would be a challenge. "But I've played some good matches against her."
As for her opposition, Clijsters says: "I really don't want to waste too much energy on what's happening on other parts of the draw or what's being said around us. You really just try to focus on yourself."
Serena Williams will not be defending her title because of a foot injury, so the women's championship appears to be wide open with No 1 Caroline Wozniacki, Clijsters, Venus Williams, last year's finalist Justine Henin, former champion Maria Sharapova and second-seeded Vera Zvonareva all having realistic chances.
Wozniacki begins play in her first Grand Slam as No 1 when she takes on Gisela Dulko of Argentina in the second match at Rod Laver Arena. She will be preceded by 2008 champion Maria Sharapova, who plays Tamarine Tanasugarn of Thailand.
Also today, fourth-seeded Williams takes on Sara Errani of Italy, while Henin plays a qualifier.
"It's a tough first round because Gisela is a very good player, Wozniacki said of Dulko. "She likes to play on this surface."
Like Safina and Jelena Jankovic before her, Wozniacki has risen to the top without a victory in a major and has had to answer many questions about her legitimacy as a true No 1.
"I've got great results. You don't become No 1 by winning small tournaments," said Wozniacki, 20, who won six of her 12 career WTA singles titles in 2010. Henin is looking forward to yet another homecoming in Melbourne. She lost the final here last year to Serena Williams, only three tournaments into a comeback to the tour after 20 months in retirement.
She won the Australian title in 2004, retired in the final against Amelie Mauresmo in 2006 and lost to Sharapova in the quarter-finals in 2008, only a few months before she quit.
That made Henin the only woman to retire ranked No 1.
Henin isn't willing to predict who will be in the women's final on January 29: "It's the beginning of the season, everyone is fresh mentally, but you need to find the rhythm again of the competition."
Clijsters agrees: "Tough players, new players that you don't expect to be doing well can be on a great run. So many things can happen."