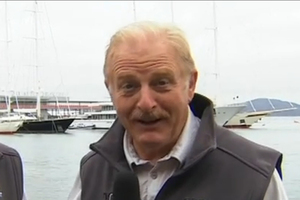 The woman who sailing commentator Martin Tasker said he was going to "do" during a live broadcast has confirmed she was seeking an interview with him.
Tasker was left red-faced after a microphone picked him up saying he had to "do" a Jewish woman.
Television New Zealand says the reporter was talking about being interviewed by Israeli journalist Shimrit Berman.
Berman told the Herald she had approached Tasker for an interview.
Tasker is in San Francisco covering the America's Cup for TVNZ with Peter Lester. The pair were preparing for a Luna Rossa post-match interview for the Breakfast programme yesterday morning and apparently didn't realise they were on TVNZ's live stream, or that their microphones were on.
Tasker said: "I feel like a pint of Guinness tonight. Should we cycle back and go to that bar? I've got to do that Jewish woman at some stage."
The commentator and TVNZ have apologised for the remarks. Tasker said he was very embarrassed and apologetic.
"I very much regret the concern my remark has caused. I had no intention of offending anyone."
Spokeswoman Megan Richards said Tasker had explained that the remark was made in reference to setting up an interview with Berman but accepted that in the context of the conversation, this could have been misinterpreted.
The head of the Broadcasting School at Christchurch Polytechnic, Tony Simons, offered some words of wisdom - if you're wearing a microphone, assume it's on.
"We try to teach our students to treat every mic as if it's hot, or live."
Mr Simons also said that any reporters who were using a microphone should watch what they said in case something was taken out of context.
Tasker was a seasoned and experienced commentator but the evolution of live streaming might have caught him off-guard, Mr Simons said.
"He wouldn't normally be in a situation where once your live cross is done, your microphone is deliberately left onso the audience who are watching it online could continue to hear what was going on."
Famous clangers
2010: Former British PM Gordon Brown caught on tape talking about a voter: "That was a disaster. They should never have put me with that woman ... Ridiculous ... Bigoted woman."
2005: French President Jacques Chirac caught insulting Britain: "The only thing that they have ever done for European agriculture is mad cow disease ... You cannot trust people who have such bad cuisine."
2005: At a press call during a holiday in Switzerland, Prince Charles complained about a veteran BBC royal correspondent: "Bloody people. I can't bear that man. He's so awful, he really is."