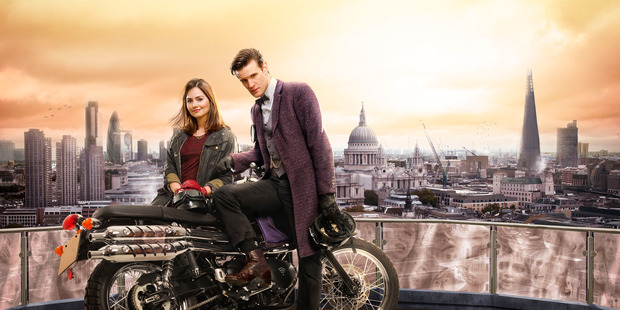 Doctor Who is 50; Dr Who is 900 years old. Something like that. That time gets very mucked about in Doctor Who is rather the point, isn't it? But it still does weird things to the inside of your head if you watched it as a kid. The Doctor keeps changing and seems to get younger by the reincarnation while you of course are getting older, but you revert to being that kid when you watch it. It's the only way to watch it because it has child-like charm, in a very English way.
I don't know how old Doctor Who is now supposed to be, in Earth terms, and you are not supposed to be worrying about such things when on the grand escape from the humdrum that Doctor Who is supposed to be.
His newest sidekick, Clara, (who has kicked around before, as a sort of teaser, presumably for her co-starring role) does seem awfully young but that is the point of sidekicks. She's a girl who yearned for adventure and travel and here she is stuck being a sort of nanny to a family who have lost their mum.
She's a good stick, then, a stickler for doing the right thing, not one of those selfish young things who only care about handbags and shoes and going drinking.
She doesn't seem to have a boyfriend. Who needs a boyfriend when Doctor Who is about to sweep into your life in his "snogbox", which is what Clara calls the Tardis?
She is also an enigma. There is much speculation, among those who speculate on such things (I am not one of them) about what she might be. She can't be just some girl; this is Doctor Who.
I do like Clara. She's loyal and sharp and is wide-eyed without being a ninny. Doctor Who may have his eye on her (I suppose you are well beyond being a dirty old man when you are 900 or so) but she has her eye as firmly on his intentions. Also, he is a bit dishy, in a fop boy sort of way and he's got gadgets and toys rather more impressive than the always broken-down Cortinas the boys I knew at Clara's age sought to impress girls with.
London looks good too. The evil soul and mind harvesters - you did know wi-fi was evil, didn't you? - have their offices in the Shard. Was that James Bond riding his motorbike up the side of the Shard? It might as well have been, which was confusing for old people like me, but presumably not for younger fans who didn't see their last James Bond film in the 70s.
Was it scary? Those evil computer head people were creepy, especially the little computer head girl.
Not being a Doctor Who nut, I don't have an encyclopedic knowledge of the varieties of evil weirdos. But I now know how to tell an evil computer head: they parrot back at you just what you have said. In my youth, such people were known as evil little brothers and sisters.
Was it funny?
Those, knock, knock: "Who's there?"
"The doctor."
"Doctor Who?" jokes are beyond the pale, I suppose. But they still make me laugh. But I am, for half an hour, only 6 years old again.
Which means that I have been sitting on the couch for far too many years; possibly 900 years.
I should get off my butt and do a workout.
The first lady, Michelle Obama, took a workout at the White House on The Biggest Loser. I was sent a DVD of this episode but the episode was missing. I was quite happy about this. Because, really, hasn't she got better things to do? Haven't I? Still, she didn't get arms like those by sitting on couches watching silly shows about a time-travelling doctor, or, presumably, shows about fat people being telly boot-camped into becoming less fat. Do she and the President really snuggle up on the couch with a bowl of low-cal pretzels and watch The Biggest Loser? No, thought not. They have better things to do.
So do I. Veep is back tonight with Julia Louis-Dreyfus' Selina Meyer, a character who manages to be even more appallingly self-obsessed than Seinfeld's Elaine.
Now there's a female role model to look up to.