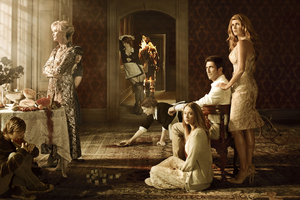 What keeps you up at night?
I suspect, like me, what gives you nightmares, has you lying there at 3 in the morning, staring at the ceiling while sweating blood with fright, isn't ghouls and ghosts. It's likely to be mundane worries with horror story titles like the "Why Can I Get My Overdraft Down?", "Will I Lose My Job Because The Boss Hates Me?", or "Is There Any Way To Avoid Spending Christmas With My Family?"
These are the real dreads, the daily of horrors of modern life. And I shiver every time I think of them.
Which is why, despite the best efforts of American Horror Story (9.30pm, Mondays, Four) to scare the poo out me with slashed throats and burnt faces and the like, that I can report that my heart rate didn't lift beyond the beats per minute expected for a tired, middle-aged man half-dozing on a couch.
American television's infatuation with B-movie horror characters - vampires, zombies, werewolves and ghosts - is showing no sign of entering the twilight zone.
Given the ratings and internet buzz generated by True Blood and The Walking Dead - and now American Horror Story - it will take more than filling the genre with silver bullets or driving a bloody big stake through its heart to kill it.
For many, there is much to like about True Blood - it has nice sense of humour, for a start - and the first season of The Walking Dead was quite watchable, though there weren't nearly enough zombie attacks for me.
American Horror Story is of a slightly lower order of evil, not least because it's a reworking by the creator of Nip/Tuck and Glee of one of the biggest horror cliches there is: the haunted house.
Yet the first episode showed just enough imagination to suggest it might be jolly good fun if I can be arsed hanging around for another few episodes.
Psychiatrist Ben and housewife Vivian Harmon (Dylan McDermott and Connie Britton) have moved from the East Coast to LA because she lost a baby and he, out of grief apparently, can't keep his old chap in his pants. Their marriage is as brittle as their temperaments and so, too, is their relationship with their daughter, Taissa, a teenager with the sort of sneering disregard for the world that television teenagers always have.
So the house - a house where people apparently die, badly, including two horrible twin boys seen in the opening stanza set in 1978 - represents a new start for them as family, even though the real estate agent told them the previous owners had left the house via a particularly grisly murder-suicide.
Unperturbed, the Harmons move in, only for a wax museum of grotesques to begin introducing themselves, including a mad, old but also sexy maid (played by both Six Feet Under's Frances Conroy and Alexandra Breckenridge), Ben's new patient (a high school kid with visions of killing his classmates; naturally he and Taissa fall for each other) and some half-burnt guy who tells Ben that he's just out of prison, having burnt his family to death in the house years before.
However, it is the neighbour, Jessica Lange's Constance, who seems likely to give American Horror Story something a bit more scary than the cheap B-movie effects that dominated the first episode. A faded Southern belle who tried and failed at acting, Constance oozes a sort of menace that pervaded one of the few films I've found scary, Angel Heart.
Beyond that, American Horror Story isn't much more frightening that a "fun" ride at the Easter Show. There might be some subtext here about family life being a horror show where you never quite know what's going on. But most of us know that already, as we lie in bed staring at the ceiling, sweating bricks about what tomorrow holds.
-TimeOut