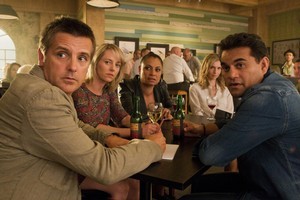 It's funny how the mind wanders when you're watching the box. The main reason for this, rather obviously, is that little grey matter is generally required to grasp things shown on television, even if it happens to be in glorious HD.
Indeed, at any given moment that I'm watching television, I'm only ever half watching television, though possibly not when watching the news. I'm certain that TV news is designed to be understood when a viewer is using just a quarter of their brain. I'll leave to you to decide whether that's a good thing.
In any case this enormous scope for the mind to wander can be quite useful. While I'm mostly hopeless at doing two things at once - thinking while talking, for example - I find I can combine watching television with all manner things: reading, cryptic crosswords, browsing the internet, making shopping lists, plotting evil, sleeping, brain surgery... well, probably not the last one.
Trivia is another thing I do while half watching television. I like trivia because I am trivial by nature.
So there I'll sit, offering myself a starter for 10 if I can remember what minor British film it was in which I last saw a minor British actor who has a minor role in the minor British drama I happen to be half watching. Or perhaps I'll try a question like asking myself to guess the number of gay characters currently on Coronation St (and no, "a lot" isn't the correct answer) with a follow-up question like "how many is too many?" Or perhaps I'll give myself bonus points if I can work why no one has told Mike McRoberts to stop wearing those pin-striped suits that turn his bit of the screen to fuzz.
Yes, trivia is wizard fun. So here's your very own starter for 10: which Oscar-winning film has the new New Zealand comedy-drama Nothing Trivial (8.30 pm, TV One, Wednesdays) rather obviously milked for its guiding premise?
Not sure? Here is a clue: the show is about a pub quiz team which manages to win the prize (a bar tab, natch) by answering impossible questions using their (in this case bitter) recent experiences shown to us, the viewers, in frequent flashbacks.
Still not sure? Oh all right then, the answer is Slumdog Millionaire. And, much like the business of whether TV news is brain-dead, I'll let you decide whether relying heavily on a dramatic device from a recent award-winning film is a good thing.
What concerns me more, however, is how writers Rachel Lang and Gavin Strawhan will manage to keep this rather artificial storytelling contrivance from going stale. It might work once, even twice, but across a whole series?
Inevitably, I suppose, they must rely on their characters. But for me they have assembled the sort of people I try to avoid, particularly at the pub. They are the sort people who have been unlucky in love and are looking for love: Brian (Blair Strang), the macho bore who thinks he's funny; the oh-so-brittle and brainy Catherine (Tandi Wright); the doleful, nearly divorced father (Shane Cortese as Mac), the loud, brassy possibly obnoxious Michelle (Nicole Whippy), and the hopelessly passive Emma (played by Debbie Newby-Ward).
Inevitably much of the first episode was given over to establishing character - and the degree of, sniff, heartache - and it is true that it is very difficult to tell, at first meeting, whether you have met a future friend. But I'm pretty sure I don't want to be mates with any of them, even on Facebook.
What I can say is that Nothing Trivial has a good heart, and undoubtedly it will find an audience with viewers who watch it because they will be having their own heartachy flashbacks as these five very-Auckland Aucklanders struggle with being unlucky in love while looking for love. I wish such viewers luck.
But here's a final starter for 10: having got to the end of this column, do you think Nothing Trivial has what it takes to keep my mind from wandering?
- TimeOut