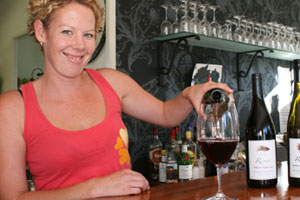 Debbie Davison's Tongariro River Estate is a family-run affair. Photo / Jim Eagles
When it's harvest time at the Tongariro River Estate in Turangi the small family-run winery doesn't have the staff to pick the grapes from its 4200 pinot noir and pinot gris vines.
Instead, mirroring what you'd expect to happen in a French or Italian village, they call on the community to help.
"When we needed to cover the vines with netting earlier this year we asked the Turangi Women's Club," says co-owner Debbie Davidson.
When it's pruning time Debbie is thinking of asking the Turangi Rugby Club to do the job. "You need big strong guys to cut the canes," she says, "so the rugby guys should be perfect."
Volcanic plateau settlements like Turangi and Taupo aren't the sort of places New Zealanders expect to find wineries.
But in fact the climatic conditions are much the same as central Otago, which is building an international reputation for its pinot noirs, not to mention many ancient European winegrowing areas.
And, while the vineyards are mostly only 10-15 years old, the area does have a small tradition of grapegrowing.
"The Italian tunnellers who came here in the 60s and 70s to build the Tongariro Power Scheme planted grapes and made a bit of wine," says the other half of the vineyard team John Davidson. "Mostly they turned it into grappa."
That comment reminded me of the time when, in the early 70s (I think), my wife and I stayed a winter night in Turangi and ate at an Italian restaurant. Afterwards, the genuinely Italian proprietor asked if we'd like grappa coffees.
Well. The grappa was real firewater and it made up, oh, 75 per cent of the coffee. It was so good we had another. As a result I have rather fond memories of the Taupo region's first foray into grape-based beverages and the idea of a wine tour amid all that spectacular lake and mountain scenery was rather appealing.
The first commercial winery here - grappa aside - was Pukawa Vineyard, planted in the late 90s as a retirement project by David and Margaret Higham.
Sitting 500m up at the top of Waihi Hill, overlooking the lake, it was the highest winery in the country (though it may since have lost that record to the Lake Taupo Vineyard, at Tukairangi, whose unoaked pinot noir is on sale at the wonderful Scenic Cellars in Taupo). Add to the altitude the climate and the region's pumice soils and it's no surprise that David told Cuisine magazine in an interview that it was a "marginal" site.
Initially they planted chardonnay, riesling and pinotage grapes in their 2ha block but the pinotage struggled in the conditions and was later replaced with pinot noir. Unfortunately I haven't tried their wines but I've had good reports of the pinot noir and, especially, the riesling.
The Highams have apparently leased the vineyard in recent years but in the meantime at least 10 other wineries have been developed in the Lake Taupo and six are already producing wine having, as David Higham puts it, "learned from our mistakes".
Tongariro River Estate is fairly typical of those, having been planted around 1998 by Auckland couple Chris and Angela Heron, who flew down at weekends.
When the Herons decided to sell, John Davidson's mother saw the advertisement "and rang me up to say, 'Why don't we buy a vineyard?"' Obviously a good question.
But did the family know anything about running a winery? "Outside of drinking it? Nothing. But mum's a great gardener."
Maybe. But their pinot noir is a very nice wine and it went perfectly with the lunch platter John whipped up in a few minutes. So, for people who knew nothing about running a winery, they're obviously quick learners.
As all that indicates the Tongariro River winery is very much a family affair - with mother working in the vineyard, John cooking for the weekend lunches, Debbie running the cellar and 4-year-old Maddi entertaining visiting children while their parents taste the wine - though the wine itself is made at the Oak House in Martinborough.
The region's other wineries are similarly small and tend to be family-friendly operations.
Also at the southern end of the lake is Omori Estate, which started planting grapes in 2002, produced its first vintage in 2005, and has already won a gold medal for its pinot gris.
Not far away is Kuratau River Wines which produced its first pinot noir and pinot gris in 2007.
The last vineyard on my wine tour is at the other end of the lake, just north of Taupo town, Huka Falls Winery.
It was originally connected with Wishart Winery in Hawkes Bay but is now simply part of Huka Falls Resort.
It has for some years produced a range of wines under its own label, mostly by contracting vineyards in other parts of the country, but its pinot noir is definitely a Taupo wine having been made in Napier from grapes grown on the surrounding land.
Sitting in the resort restaurant, with lovely views over the vines to the peaks beyond, I savoured the pinot along with a delicious prawn and smoked salmon salad. Hmmm. Taupo mightn't be front of mind when you think of winegrowing areas but it's not a bad place to go on a wine tour.
Further information: See laketauponz.com.
Jim Eagles did his Volcanic Plateau wine tour with help of Destination Taupo.