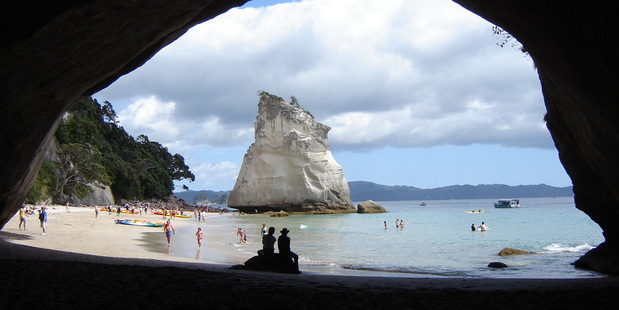 There's nothing New Zealanders love more than a holiday at the beach - though absorbing a bit of culture in the city is also important.
In a survey by travel website Wotif, the beach ranked highest when it came to Kiwis' favourite place to holiday, followed by a city getaway.
"Kiwis love a beach holiday with 38 per cent selecting it as their favourite style of holiday, while 23 per cent prefer a city escape and 20 per cent a coastal retreat," Wotif's Kirsty La Bruniy said.
And, not surprisingly, 31 per cent of the survey's 1531 respondents said they liked to spend their holiday relaxing.
The owner of Hot Water Beach Top 10 Holiday Park, Sheree Webster, said beach holidays were part of the New Zealand psyche.
"There's no charge to go to the beach. The kids are entertained all day and it's just the one thing that is so part of our DNA, to go to the beach at summer."
Mrs Webster said the six-year-old Coromandel campground booked out every year with regular beach-goers returning every Christmas for their summer holiday.
"They're bringing friends and it's quite amusing actually. It's almost like they build up their own little suburbs.
"They come down and meet every year and spend two weeks doing things at the beach. They might go for drives into town [in Whitianga] but basically they blob."
Not only did families get to relax but she said it was great to see dads able to spend time with their children, playing volleyball or cricket, and mums unwinding with friends.
While 27 per cent of respondents were curious Kiwis who wanted to visit cultural attractions on their trip away, Mrs Webster said many such experiences in New Zealand were expensive.
"For New Zealanders to go and experience something in Rotorua, it costs a lot of money."
She said a big rugby game was almost out of reach for average rural families these days.
"You've got tickets, accommodation and transport - you don't have much change out of $800 and you can have 10 days' camping for that."
The survey found only 13 per cent of Kiwis were looking for adventure or an outdoor holiday, but when it came to the ultimate international destination, the beach-loving bunch chose Hawaii as their number one sun, sand and surf spot.
"Hawaii ticks all the boxes of what Kiwis are looking for. It's known for stunning beaches as well as offering cultural experiences and amazing cities," Ms La Bruniy said.
For those who wanted to explore their own backyard, Queenstown grabbed the top spot for domestic destinations with 25 per cent of respondents, followed by Wellington, Nelson, Wanaka and Auckland.
Kiwis also liked a bit of luxury on holiday, 33 per cent saying they would prefer to stay in a five-star hotel and 29 per cent a resort.
For those wondering what they think of us across the Ditch, 6946 Australians surveyed by Wotif voted New Zealand second in their top international destinations. However, the feeling wasn't mutual, Kiwis ranking Paris, London and Italy next in their top international holiday choices.
Bach breaks a way of life
Melissa Sowden grew up going to the beach every holiday.
Now she's a mum to two-year-old Eva, she and husband Andy Sowden are continuing the tradition.
"My husband and I have always been beach people. It's always where I went away on holiday, because we had a bach at Raglan growing up," Mrs Sowden said.
Through Mr Sowden's work the Auckland couple are able to take advantage of the Marram Community Trust, formerly the Post Office Welfare Trust, to rent inexpensive holiday homes around the country.
Last summer they rented a bach at Ruakaka beach near Whangarei for less than $300 for the week.
"It's really basic but it's all you need."
Even their international holidays are worked around beaches.
In February they visited family in Cairns where they went snorkelling at the Great Barrier Reef and in August they went to Rarotonga for a wedding.