Immerse yourself in French culture for a slice of the price, says Megan Singleton.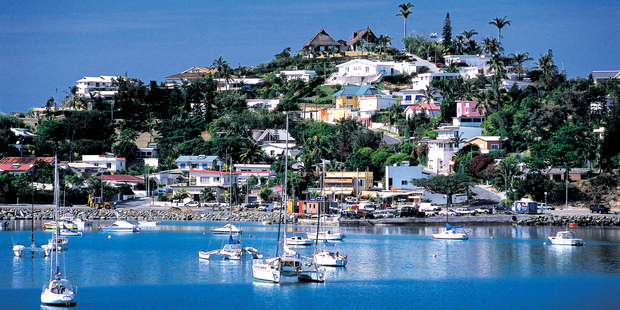 Within three hours' travel from Auckland, you can be practising your French and eating the best of both worlds in New Caledonia.
Here are five things you should have on your to-do list when visiting this little slice of France in the South Pacific.
1. Shop at a local supermarket
A random suggestion I know, but Noumea's supermarkets are a mecca for passionate foodies. Many hotel rooms come with kitchens, so stock up on gooey (and affordable) French cheeses, foie gras and pate, and get your freshly baked baguettes, croissants or delicious pain au chocolat from the bakeries that are dotted everywhere.
2. Visit Port Moselle Market
In keeping with the above advice, get down to Port Moselle Market, which is open from 8am-11am (except Mondays). It's where fisherman tie up and drop off their catches - expect to pay about $14 for a kilo of fresh tuna.
You can also get veges, fruit, olives and breads and have fun perusing the handcrafts, hats, sarongs and jewellery stalls.
3. Duck Island
Or Ile aux Canards - which sounds much more exotic. It's a 10-minute water taxi ride from Anse Vata beach, where most hotels are located. Bring a picnic (see above tips) or buy your lunch at the restaurant there, rent a sun lounger and snorkel gear - or take your own. Wind and kite surfers dot the waves and colourful fish are plentiful to keep your little ones amused for hours.
4. Dine at Baie des Citrons
When you're sick of self catering, because you are on holiday after all, walk or taxi around to Bay of Lemons (Baie des Citrons) where you'll find restaurants and bars jostling for space with indoor and outdoor seating and all manner of cuisine on offer. From fine French fare to seafood, burgers or pizzas, there's something for everyone.
5. Play petanque with the locals
There are plenty of other attractions to see as well as great shopping, but my pick for the fifth best thing to do is to wander along Anse Vata beach in the evening, where the locals gather to play petanque. They'll probably ask you to join them, so be prepared to lob your best boule.
See Megan's photo blog on Noumea here.
The writer was assisted by New Caledonia Tourism NZ and Air Calin.