Lucy Bennett visits a bar nestled in one of Sydney's refreshed historic gems.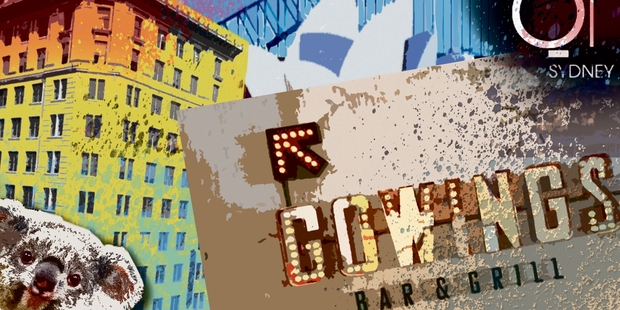 I remember when Gowings was where men went to buy pyjamas and underpants, a relic of bygone times when the department store ruled.
Sadly, with the advent of cheap and cheerful chain stores, shops such as Gowings, a central Sydney stalwart where real Aussie men came in from the bush to stock up on manly supplies, has fallen by the retail wayside.
It closed in 2006, much to the dismay of many who had come to rely on its camping equipment, boots and moleskin trousers.
Happily, though, it was promptly bought by Amalgamated Holdings and underwent a reported AU$69 million ($77.7 million) refit to turn it into QT Sydney hotel.
This is no ordinary hotel. From the moment the "doorman" - an attractive woman in a vivid red wig and figure-hugging black - ushers you in, you know you're somewhere awesome.
The hotel has taken over the Gowings building and the adjoining State Theatre, and is now a "so cool it'll make your eyes bleed" space.
As I make my way from reception to dinner at the Gowings Bar & Grill further into the uber-styled interior of the historic building, I feel like a fraud. Someone is going to bust me for being over 40, and for wearing the same clothes I flew over from New Zealand in.
I'm greeted by more attractive young women in little black dresses as I enter the bar for a pre-dinner drink (while I'm waiting for my guest, they suggest). I'm hungry, should I tell them I'm dining alone to hurry up the process? Then I decide I need a drink after a long day travelling.
The attractive young man behind the bar gets my gin and tonic, asks me what gin I'd like. I do like a choice, as we all know, some are superior to others. Lemon or lime, he asks.
As it is a Monday night, there are plenty of seats in the pleasantly dimly lit bar. I take the banquette, back to the wall, so I can survey my surroundings. They are quite something.
QT makes much of its interior design, styling, bespoke furnishings, art and music, and it should. Although there are nods to the former occupant of the building, the interior has been styled to within an inch of its life and no detail is neglected.
Even the ceiling has arty touches, so no matter where my eyes wander as I drink, I'm captivated.
My fellow drinkers seem oblivious to the sensory overload of the deluxe surroundings created by some of Australia's hottest designers and artists. They either come here a lot or they're just way cooler than me.
I'm getting pretty hungry and I'm keen to try the Gowings Bar and Grill, whose food director is acclaimed Sydney restaurateur Robert Marchetti, mastermind behind Icebergs Dining Room and Bar and North Bondi Italian Food.
Marchetti is a chef with little interest in celebrity and it is a point of interest that he is associated with Gowings.
In a city that chews up and spits out new bars and restaurants with alarming speed and where the hottest ticket in town can quickly become the destination of B-listers only, Gowings has an air of solidity. Its place inside an old, established building and the name itself, a long-trusted brand, should ensure it remains a favourite haunt of Sydneysiders and visitors.
For its quirky interior and attention to detail, and the fact that two fine Sydney buildings have not only been preserved but given a glamorous makeover, it deserves a round of applause.
CHECKLIST
Getting there: Fly there with Air New Zealand.
Further information: See australia.com.