Melbourne offers Colin Hogg a variety of drinking holes, from classic to haunted.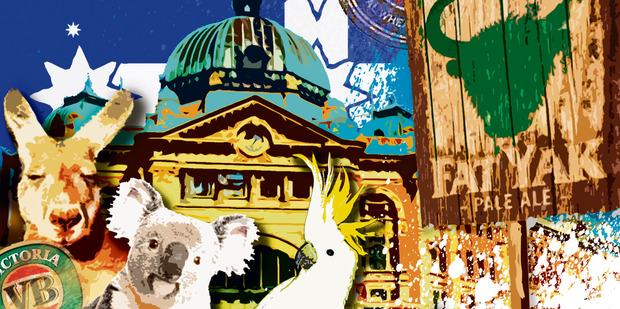 There are bars and then there are bars. And there are cities where dedicating oneself to visiting such places makes more sense than others. One of the cities that makes a good deal of sense seen through a glass is Melbourne.
Melbourne's downtown is a place of corners - alleys off lanes, off little versions of larger streets. It's in some of the littlest alleys you find some of the central city's most interesting spots.
The best-known boozer is anything but hidden away, standing slap-bang in the middle of everything, across the road from the famous Raj-styled Flinders St Railway Station.
Young and Jackson is a Victorian labyrinth of nooks and bars and eating opportunities. The beer of choice here, naturally, is the Naked Ale, a rather nice wheat beer.
For a drink just five minutes but a world away, pop across Flinders and follow the Yarra River downstream to a footbridge with its own bar.
Perched on a platform on one of the Southgate Bridge supports is Ponyfish Island, a breezy sort of bar where you can sit drinking South American beer while the boats go by.
For a drink in more traditional surroundings, on Bank Lane, off Little Collins, there's the olde English-looking Mitre Tavern, Melbourne's oldest pub, in business for 140 years.
It's a slightly blokey sort of a place, but it has a congenial vibe, aided by the 14 beers on tap, including the splendid Fat Yak pale ale.
Also rather ancient is the Duke, the refurbished and recently reopened pub on the corner of Flinders and Russell, where the original Duke of Wellington opened even before the Mitre.
Now operating in the style of an English gastro-pub, the emphasis is on food, though there's a good range of beer from shiny new taps along the shiny new bar.
For somewhere a bit funkier, there's Cookie, a relentlessly popular bar and restaurant upstairs in an old stone building up Swanston St.
It's groovy in an overcrowded way and, going by the prices, it knows it, though that fancy $14 beer is worth sitting on just to get a table in the restaurant, which is Thai nouveau and terrific.
Bar Americano hides down the end of tiny Pressgrave Place, off Little Collins - one of those places you don't know is there until suddenly it is. Up some steps and through the tall backlit doors and you're in what must be the smallest bar in town. It's jam-packed with 10 customers. They don't serve beer but they do a spirit-lifting gin and tonic for $12.
We slip off to the more malodorous alleys of Chinatown and the Croft Institute, lurking at the end of the last wriggle of Croft Alley. The Croft is an old laboratory where the drinks come in syringes. The building is rumoured to be haunted and, with its otherworldly lighting and all its gothic goofiness, that's easy to believe.
I find further temptation in the shape of Vic's Bar, an old-style house bar with a pool table and a strong sense of itself at the elderly but classy Victoria Hotel. All lit up, at the top of the stairs, it's almost impossible to avoid.

Getting There
Fly there with Air New Zealand Book now
Find out more at Australia.com