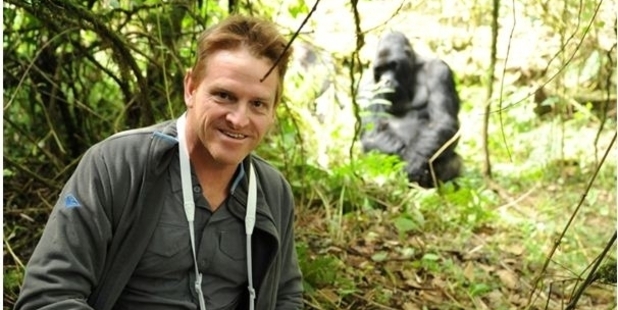 What was your greatest holiday?
My most recent holiday to Africa was pretty damn special. Flew into Jo'burg and straight up to Rwanda, where we trekked into the jungle and spent two days with the mountain gorillas. Then on to the Serengetti, before heading across to an amazing beachside villa in Zanzibar for a couple of days. When I look back on the photos it brings such fond memories of the countries and the animals.
And the worst?
Was in March of this year when I took my kids snowboarding in Japan. Absolutely love the place and we are all mad for the snow. But last run on the first day heading down a black run I arrived at the bottom of a turn and my daughter didn't. My boys were back in the apartment warming up and my daughter was lying at the base of a tree after slamming into it on the run. She fractured her sternum, lacerated her liver and knocked herself out. We were airlifted from the village by helicopter to Sapporo, where she would spend the next four days.
If we bump into you on holiday, what are you most likely to be doing?
Either snowboarding or riding a bike. The trip to Africa was so unusual to what I'm normally doing. If I don't get to the snow at least twice a year I'm not happy and ever since 2009 I have spent every January riding 1600km through Thailand on charity bike rides.
If we could teleport you to one place in New Zealand for a week's holiday, where would it be?
I started travelling to New Zealand when I started on the corporate speaking circuit and since then I've travelled over several times a year. I have spent at least a week for the last five years on the ski fields of TC or Cardrona on the South Island and absolutely love the place. I'd be equally as happy in a bach on Waiheke Island as I would be in Wanaka or some tiny place within the beautiful Canterbury region. But if I only get one choice you better plonk me in Queenstown somewhere as that has so much to offer all year round.
How about for a dream holiday internationally?
Having just done Africa this year and I was also fortunate enough to spend time in Turkey and Greece with work, I wouldn't mind heading back to Lyon in France where I spent time in 2008 when I worked for Interpol. What I saw and experienced I loved. It was the feeling of the place and no better location than to sit over an incredibly long lunch and people-watch - of course this wasn't what I did with Interpol.
Complete this sentence: I can't travel without ... is it too obvious to say passport? I actually really need to have either my running gear, swimming goggles or bike with me. I despise the impact travel can have on your fitness and health and therefore make sure at least one of the three are coming with me each time I fly. People are surprised when I get off the plane and have my road bike with me. I find it really easy and so far haven't had any damage sustained to my bike while travelling.
What's the best travel tip you've ever been given?
Wear your Qantas jammies on overnight flights. Is that too much of a plug for Qantas? I love getting dressed into my jammies before we even push back and knowing I'm going to be as comfortable as I can be for the next nine to 12 hours.
What was the most memorable meal you've had while travelling?
I went to lunch in Mykonos during my July trip this year and we sat down at 12.30pm and left the restaurant at 10.30pm. We only left then because the cruise ship we were on was leaving port, with us or without us at 11pm. It was the longest work lunch I've had, and I can't think of too much business that was achieved, but we did have a stunning time.
Favourite airport to land at?
Queenstown, without question. But it needs to be a clear day to appreciate the beauty.
What's the next trip you have got planned?
I have several work trips to NZ before the end of the year which I always enjoy and then off to Thailand in January for another 1600km on the bike. It's food for my soul.
Peter Baines is speaking at the Pacific Area Incentives and Conferences Expo (PAICE 2013) at the SkyCity Auckland Convention Centre on November 13. Entry is free to anyone involved in corporate travel and meetings, pre-registration essential. See paicexpo.co.nz.