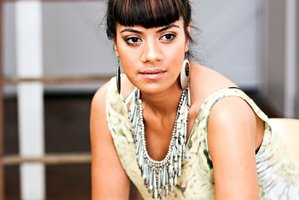 What was your greatest holiday?
My 17th birthday was spent on the African island of Zanzibar in a village called Paje Ndame. Probably my best birthday and holiday rolled into one.
And the worst?
Camping at a friend's amazing wedding one time but, it rained, we woke up in the early hours to our air mattress totally deflated with us still on it while we were severely hungover and floating in a pool of water. The tent was half-unhinged with the roof caving in. Our son was two years old, but, unsurprisingly coping better than his parents. We decided to pack up and leave immediately to find another camping ground in a sunnier area.
If we bump into you on holiday, what are you most likely to be doing?
Sunbathing, while watching the son and baby daddy snorkelling up a storm.
What's your dream destination?
Tropical islands.
What's the dumbest thing you've ever done when travelling?
I didn't do it, my Mum did. She booked us on a flight from LA to Amsterdam in the smoking section. Really terrible idea - it was like torture by cigar smoke, I was dry-retching the whole time.
Complete this sentence: I can't travel without
... sunglasses to ignore other travellers when I'm tired, grumpy and feeling bratty, or, to just protect the eyes from the odd bright bit of sunlight, or, to pretend I'm not sleeping, or, to obviously sleep but darken the room for myself.
What's the best thing you've brought back from a trip?
Money and awesome memories of making that very money I'm bringing home.
What's the next trip you've got planned?
Berlin to Vienna tomorrow at approximately 7am - woohoo!


Ladi6 plays at the Big Day Out on January 17 at Western Springs. Tickets: bigdayout.com.