Disney fans are flocking to the amusement park in droves following its five-year, US$1.4 billion upgrade.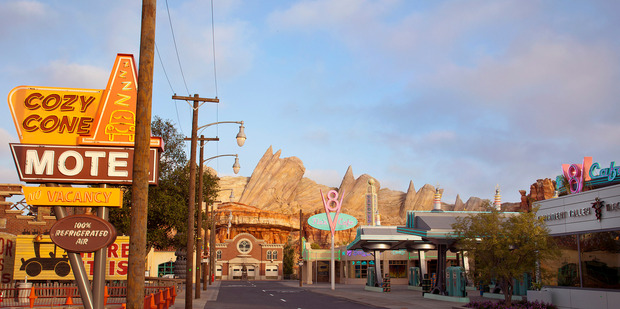 1. The new hero of California Adventure, Cars Land, is designed around the Pixar movie Cars. It features three rides with the most popular being Radiator Springs Racers which features a car race between your car and another. The other rides in this new five-hectare area decorated with Route 66 memorabilia are Luigi's Flying Tyres and Mater's Junkyard Jamboree. Click here for Megan's spoiler video from the race car.
2. Toy Story Midway Mania! is a 4D ride over in Paradise Pier.
They don't offer Fast Passes so my tip would be to line up here first after grabbing the free passes to return to the others at a designated time. With your 3D glasses on, get your trigger finger ready because you will be whisked in front of a series of virtual fairground smashing and shooting games to earn points and beat your co-driver.
3. Soarin' over California is an oldie but still a park favourite. It's a gentle ride for those afraid of roller coasters. You just sit in a chairlift as your feet dangle and you feel like you're flying from the top of California to the bottom on the massive IMAX screen. Watch out for the smellavision citrus too when you soar over Orange County.
4. The Twilight Zone Tower of Terror is incredibly popular and queues can be a couple of hours long (grab a Fast Pass early in the day). Upon entry, you're taken into the haunted hotel and shuffled into an elevator where you are strapped down before ascending to the top of the building. The doors open for a second so you see the outside world - then suddenly you are freefalling, your heart and lungs left on the top floor.
5. California Screamin' is the roller coaster at Paradise Pier which loops the loop and rolls you over and upside down. An honest to goodness thrill ride. Do not eat lunch before you ride. You've been warned.
And one final tip: use the Single Rider line if you don't mind being split up into different cars as this will save you time standing in line.
- nzherald.co.nz