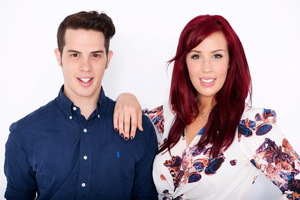 What was your greatest holiday?
Have to say when the family went to New York City. NYC is truly an amazing place. Went for our mum's birthday - the food the shopping; everything was amazing! Oh and Broadway took my breath away.
And the worst?
Worst holiday, hmmm ... is this even possible? If you're having a terrible holiday you've travelled with the wrong people, give us a call next time!
If we bump into you on holiday, what are you most likely to be doing?
You would find us doing very crazy things, like bungy jumping or sky diving, but most likely we would be eating. Eating everywhere.
If we could teleport you to one place in New Zealand for a week-long holiday, where would it be?
Queenstown - home of the best skiing, great wineries and we love the hiking there.
It's truly a 10 out of 10
How about for a dream holiday internationally?
If would have to be South America, the culture and food and the people are so interesting. We have never been but its one of our next stop location
What's the dumbest thing you've ever done when travelling?
I was in Beijing with a few friends of mine and I decided to lift one of the girls up in front of the Forbidden City to take a photo. Four guards came running up guns out shouting at us - turns out we were disgracing the city!
Complete this sentence: I can't travel without ...
Fun, exciting friends. Oh and my tooth brush
What's the best travel tip you've ever been given?
This one is from our mother: "Don't be afraid of the country you are going to, explore everything it has to offer because you might not be there again."
What was the most memorable meal you've had while travelling?
Bangkok has to take the title here. Sixty-four floors up in the sky enjoying a four-course meal! With a martini in hand!
What's the best thing you've brought back from a trip?
Got back from Japan and brought with me a samurai sword. Coolest thing ever.
Favourite airport to land at?
Have to say Hamilton Island, boarders the Great Barrier Reef. It's a really short runway, but we know we are about to have a wicked summer holiday.
What's the next trip you've got planned?
I think its time to venture over to South America, if not we'll head back to Malta, our second home.
• Jake Harrison and his sister Elle were runners up on My Kitchen Rules. They host an evening promoting Sunshine Coast food and travel.