Too good to be true? Justine Tyerman investigates an international home swap scheme.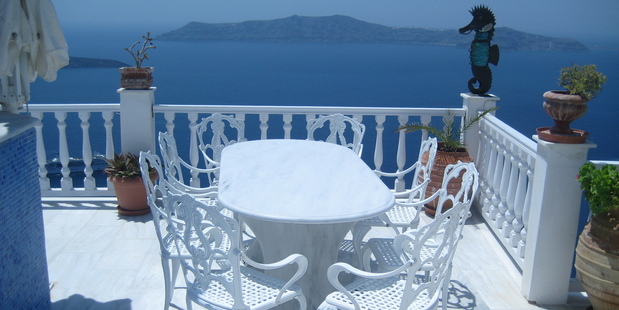 I'm in a trance - half awake, half asleep. It's very late at night and my fingers freeze on the keyboard, my eyes not fully believing the vision before them.
I have wandered, like a somnambulist, into the most exquisite place, a whitewashed villa gleams in the sun high above a sparkling sea.
It's past midnight and I should be tucked up in bed but the hopeless optimist in me - or reckless gambler - gives into the urge to delve into this most improbable of websites.
I am being offered a villa in Greece, a chateau in France, a ski lodge in the French Alps, an apartment in Rome, a beach house in Sydney - for free!
So what if I am actually asleep. It's the best dream I've had in years, so I play along for a while to see what happens.
Hours later, I wake up my husband to tell him the exciting news. For some reason, he's not as thrilled as I am - and tells me I'm dreaming.
But in the cold light of the next morning, with a mere nudge of the mouse, the site is still alive on the laptop and there's that idyllic villa in Santorini again, tantalisingly real.
So I silence the little voice of caution which keeps me safe and sensible on the internet, decide that valour is the better part of discretion and make bold advances into the website. It's even more mind-boggling now I'm wide awake! I am offered access to a home swap service with 40,000 stunning properties in 150 countries all over the world and the potential to save thousands of dollars in accommodation costs - for a modest membership fee. You can list your house for free and then pay NZ$19 a month for an unlimited number of swaps throughout the year.
I do quite a bit of research to satisfy the discretion bit. I discover I have stumbled upon Love Home Swap, the world's second largest home swap site, launched in 2011 by UK entrepreneur Debbie Wosskow, with just 250 houses.
I talk to Debbie's brother, chief marketing officer Ben Wosskow, in London to check out the credentials of the scheme and settle my it's-too-good-to-be-true qualms.
I correspond with Debbie who says their members save an average of $4000 per swap, so it's definitely a smart way to travel.
"What really appeals about home swapping is that you can holiday for free, all around the world in some amazing homes," says Debbie. "Home swaps also offer a much more local and personal travel experience, as people share recommendations with each other on the best things to do and see in their own neighbourhoods - insider tips you wouldn't get from even the best hotel concierge."
I also read in-depth articles in The Wall Street Journal, The Sydney Morning Herald and other reputable publications, and decide that if their journos have given it the big thumbs up, then it's safe enough for me.
Fast forward a few weeks and I'm a fully signed-up member of Love Home Swap, discussing swaps with Chantal, who owns that dreamy villa in Santorini high above the Aegean Sea, Damon, whose house backs on to a top ski resort in Utah with summer options of golf, hiking and fly fishing, Jack, who has a holiday house overlooking Palm Beach an hour north of Sydney, and Morag, who lives in a stylish apartment with a cool roof-top terrace in central Sydney. We have a daughter in Sydney which makes it a very attractive proposition.
Swaps can be simultaneous or non-simultaneous, whatever suits the swappers/ees. After you have made contact with a property owner via the website and agreed on a swap, the details, terms and dates of the swap are up to the two parties to sort out by email, Skype or phone.
We have been communicating with Damon for some weeks and plan to meet him when he brings his family to New Zealand some time in the future, but in the meantime, he says we are welcome to stay at his house and ski, fish, hike and play golf to our hearts' content!
Chantal and her husband George have a fledgling wedding business at their villa, Sea Horse Residence, in Firostefani, Santorini, so I thought I would drag my husband of 33 years off to Greece and remarry him there, where this reverie all began - even just for the sake of having photographs taken on the fairy-tale balcony overlooking the Aegean Sea.
The villa, built around 1720 as a convent, was once owned by a German Prince and has recently been renovated in keeping with traditional Cycladic architecture. The floors, inside and out, are made of dionysos white marble. Built on four levels above the cliffs of the caldera, the villa accommodates up to 20 people.
Chantal has no immediate plans to come to Gisborne so will "bank" the swap until she is ready to travel to New Zealand.
The same applies to Morag, a gregarious Scottish import and experienced home swapper/traveller who loves contact with people from all around the world.
Jack, on the other hand, is keen to visit next year so we will await his arrival with great anticipation, arrange many fabulous activities for him to do here in Gisborne, and then leave him to it.
Empty-nesters for 95 per cent of the year, we are busy planning holidays well ahead, looking forward to new friendships with travellers from afar and introducing them to our beautiful part of the world - not to mention the excitement of staying in lovely homes in places we have always dreamed of visiting.
Can this be true? If indeed I am dreaming, please don't ever wake me up.
Have a look at lovehomeswap.com but be prepared for late nights.
It's addictive!
- nzherald.co.nz