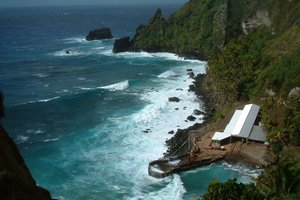 Looking for the most unusual place to spend your next holiday? How about four days on infamous Pitcairn Island?
The island has been best known in recent years for a sex-abuse scandal, but four-day tours are now being offered by a university-owned travel company specialising in trips for the over-50s.
Pitcairn is inhabited by descendants of the Bounty mutineers and the Tahitians who went with them. Fewer than 70 people from four main families live on the island, which is just 3.6km from east to west.
In 2004 a sex-abuse trial created international headlines. Six men, including the mayor, were convicted of sexual attacks on children.
Odyssey Travel has launched education-based tours due to start in August. The Pitcairn stop is part of a longer Polynesian programme, and is the first time a tour operator has included the island on its schedule.
The company says Pitcairn has strong name-recognition among travellers interested in history and culture.
The first Pitcairn visit will be in August. Travel will take two days by boat from Mangareva, in the Gambier Islands, French Polynesia.
Odyssey Travel, owned by the universities of New Zealand and Australia, is a not-for-profit company.
- staff reporter
Things to do on Pitcairn
Fishing: Pristine waters teem with fish. Visitors can head out with locals in a boat, fish off the rocks or get their catch underwater.
Snorkelling and scuba diving: There is an abundance of marine life, especially amid the wrecks of the Cornwallis and the Bounty.
Birdwatching: The island boasts the endangered Pitcairn Island warbler, while Henderson Island, 193km away, is home to a range of birds, including the flightless Henderson crake.
Walking: The island is well signposted and offers an eco trail and unique flora and fauna along the track to Christian's Cave.