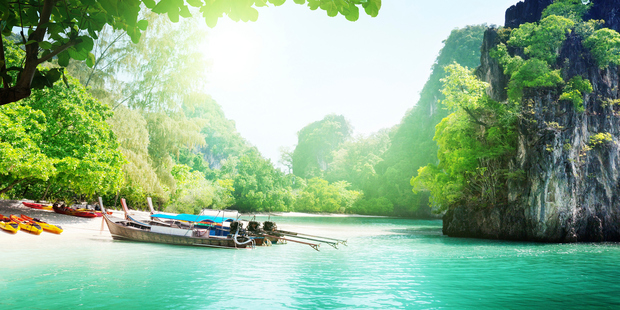 My partner and I are planning a trip with friends next year to Asia. We have been to parts of Thailand and really want to go back to Phuket and Koh Samui, but we are also interested in going to Malaysia, Singapore and maybe even a quick stop in Hong Kong if possible. Is it possible to visit all these places in two or three weeks, and if so can you suggest an itinerary and the quickest, most cost-effective way of getting around? - Kirstin Lindberg
Lonely Planet's Sarah Bennett and Lee Slater write:
You should be able to visit all the places you mention, although Hong Kong will need to be added as an air-hop triangulated with Bangkok and Singapore - our suggested entry and exit points for an overland tour of Malaysia and southern Thailand. There is much to see along this route, so allow as much time as possible for the journey.
Between Bangkok and Singapore, buses will be your primary mode of travel, although reliability and road conditions vary. Take cheap regional flights if you want to reduce travel time over longer distances, especially if it allows you to spend more time in the places you really fancy.
The inexpensive and scenic International Express train runs all the way from Bangkok through the Malay peninsula to Singapore, so might be worth considering for a leg or two. Both Thailand and Malaysia have extensive rail systems, although trains rarely run on time.
The itinerary suggested here could be completed in either direction, but starting at Bangkok: make a beeline for the beach-bum islands in the Gulf of Thailand. If you want to try something new, maybe skip resorty Ko Samui and head instead to dive-crazy Ko Tao or hippie Ko Pha-Ngan.
Over on the west coast, indulge your desire to return to Phuket but consider also skipping along to adrenalin-charged Krabi, home to rock-climbing and cave exploring, or chill out on laid-back Ko Lanta, from where you could island-hop across the Malaysian border at Pulau Langkawi.
Continuing south, head to Penang for street eats and Malaysian fusion culture, before passing through the tranquil Cameron Highlands with its glossy green tea plantations on the way to Kuala Lumpur. One of the highlights between KL and Singapore is the colonial port of Melaka.
I am 75 and my wife is 76. I have Parkinson's disease and she has cardiac disease, but we are fit for our age. Which insurance companies would cover holidays in Australia, UK/Europe or the United States, and at what cost? Do any cover loss of luggage or other non-medical hazards without medical insurance? Would they cover costs of repatriation of ashes and the accompanying relative's hotel and flights home if one should die? - Andrew Young
Lonely Planet's Sarah Bennett and Lee Slater write:
Travel insurance is available from numerous companies, many of which will issue your policy online or via telephone. To ensure you get the most appropriate policy, however, we suggest you deal with an insurer with an office in New Zealand.
Companies that fit this bill are Southern Cross, 1Cover, the AA and STA travel, but there are others.
Ask any travellers among your friends and family for personal recommendations, as these are always valuable.
All standard policies include some level of medical cover, as well as cover for lost luggage, flight cancellations and suchlike. These policies cover unforeseen medical events only - a broken ankle slipping on a banana skin, for example - and you will therefore be covered for accidents of this kind.
Your illnesses, however, come under the definition of "pre-existing medical conditions", and although some insurers will cover some pre-existing conditions (sometimes called "controlled conditions") under their standard policies, Parkinson's and cardiac disease will almost certainly be exempt.
You can seek additional coverage by completing a medical assessment form, the results of which may require discussion with your provider - hence our suggestion to select an insurer based in New Zealand.
Some conditions may not be covered under any policy, but if you are successful in securing coverage for your pre-existing conditions it is advisable to read the fine print. Should you take out such cover and die while you are away, repatriation of your ashes will indeed be covered, as will any reasonable associated costs incurred by your travelling companion.
If you were travelling alone, your policy would likely extend to flying a friend or relative out to bring your ashes home.
It always pays to be prepared, but in such instances we like to quote Tony Wheeler, the founder of Lonely Planet: "All you've got to do is decide to go and the hardest part is over. So go!"
WIN A LONELY PLANET GUIDEBOOK
Email your questions to travel.info@lonelyplanet.com and they'll be answered by Lonely Planet's experts.
In addition, the best question each week will earn a Lonely Planet guidebook. Add your postal address and the guidebook you'd like (see lonelyplanet.com).
Not all questions are answered and Lonely Planet cannot correspond directly with readers.