Shandelle Battersby checks out NYC's best new food halls.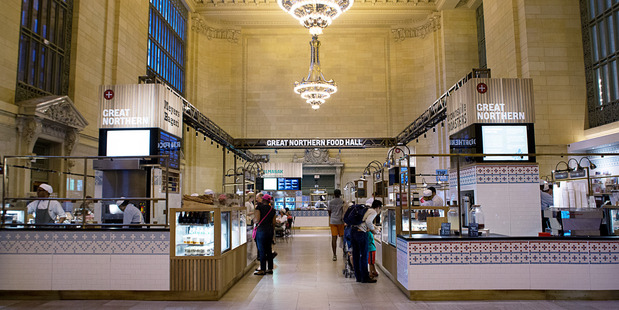 New York City is foodie heaven - one of the few places in the world where you can find absolutely any kind of cuisine you can think of, from Amish and Jewish, to Barbadian or Serbian. The choices are mind-boggling. I'd recommend dropping into the city's famous Chelsea Market at 75 9th Ave (chelseamarket.com) for a wide range of food purveyors in a very cool space, but there are a bunch of new food halls across the five boroughs you should check out too, and a couple on the way to have on your radar. Here's a quick rundown.

Great Northern Food Hall, Manhattan
Historic Grand Central Station should definitely be on your NYC list, and while you're there, be sure to have a wander around this Scandinavian food hall by Noma co-founder and acclaimed Danish chef Claus Meyer. The offerings include an artisanal bakery, Danish open-faced sandwiches (smorrebrod), the Grain Bar, which serves sweet and savoury porridges (grainottos), in the morning and beer and whiskey after 4pm, a salad and smoothie bar, and a deli.
• Grand Central Terminal, Vanderbilt Hall West, 89 East 42nd St

Eataly NYC Downtown, Manhattan
This downtown branch of global Italian marketplace Eataly is in the also new Westfield World Trade Center complex.
It is dedicated to all things bread - "the only food created by man, not nature, which unites virtually every community around the world". Its flagship restaurant, Osteria della Pace, serves upscale southern Italian food, but there's plenty to choose from as well as a well-stocked market and cooking classes.
• Third Floor, Westfield, 4 World Trade Center (Liberty St at Church St)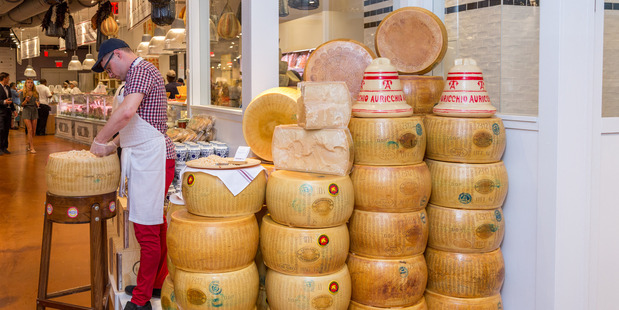 Queens Night Market, Queens
For a different experience, take the 7 train out to Queens for its family-friendly open-air night market at the New York Hall of Science during the warmer months (April to August, then October). A snapshot of some of this year's vendors: Israeli confectionary, Burmese palata (a flaky, fried flatbread), Trinidadian shark sandwiches, Nigerian meal gizdodo (a mixture of spiced gizzards and plantain), Japanese rice flour crepes, and good old mac 'n' cheese.
• Flushing Meadows, Corona Park

Berg'n, Brooklyn
At the Berg'n beer hall in Crown Heights, you can pair your beer with either Filipino-inspired Lumpia Shack, burger joint Landhaus, bakery and pizza place Bread and Salt, or barbecued pulled pork, wings and brisket at Mighty Quinn's. There are 12 beers on tap, and regular hipster events such as Coloring Club or Shimmy Contests.
• 899 Bergen St