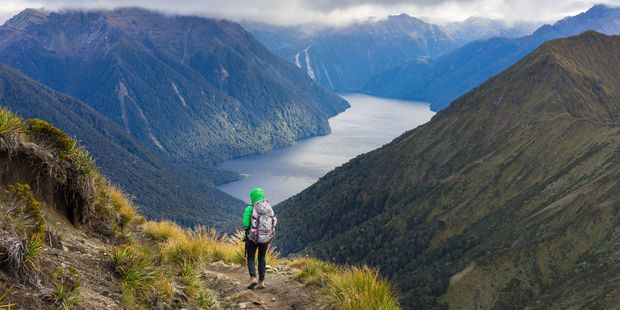 New Zealand's Great Walks are acclaimed around the world. Make the most of them. For more details on the walks, go to doc.govt.nz.
Lake Waikaremoana
Glorious views from Panekire Bluff and the sheer drop of Korokoro Falls make this a rainforest wander to inspire.
A 46km one-way intermediate tramp over 3-4 days.
Huts: $32adult/per night.
Tongariro Northern Circuit
The Great Walk that's nearest to Auckland, this part of New Zealand is stunning even when Ruapehu isn't exploding. You'll go past glacial valleys, native beech forests, alpine meadows and volcanic landscapes. But it's the stunning emerald lakes you'll long remember.
A 43.1km loop, with 3-4 days of intermediate tramping.
Huts: $32adult/per night.
Whanganui Journey
The odd one out: Here's a great walk where you're mostly paddling. After kayaking or canoeing theWanganui River, a forest walk leads you to the Bridge to Nowhere. On this walk you'll stay at at Tieke Kainga, the only DoC hut that is also used asamarae.
An 87km or 145km one-way journey over 3-5 days.
Huts: $32adult/per night.
Abel Tasman Coast Track
A wonderful tramp that takes you from forested tracks to golden sand beaches. The 47msuspension bridge across Falls River will test your nerve and reward you with magical views over the beautiful inlet.
A 60km intermediate track, with 3-5 daysof tramping.
Huts: $32adult/per night.
Heaphy Track
The dense rainforest of the West Coastmeets the roaring swell of the Tasman Sea. This track is open to mountain bikes between May 1 and September 30.
A 78.4km track, with 4-6days of intermediate tramping.
Huts: $32 adult/per night.
Routeburn Track
The towering Earland Falls is among the most impressive sights on an alpine trek that takes you through meadows and valleys and delivers terrific views of the Routeburn Gorge and the Hollyford Valley.
A 32km one-way track, with 2-4days of intermediate tramping.
Huts: $54 adult/per night
Kepler Track
From idyllic lakes, through beech forest and on to soaring tussock-covered ridgelines, the Kepler brings trampers to spectacular views of Lake Te Anau.
A 60km loop track, 3-4 days of intermediate tramping.
Huts: $54 adult/per night
Milford Track
When the Milford Track - arguably our most famous - is "the finest walk in the world", it's no exaggeration. Giant glaciers, ancient rainforests and towering waterfalls, there is nowalk like it on Earth.
A 53.5km one-way intermediate tramp, over 4 days.
Huts: $54 adult/per night
RakiuraTrack
The birdlife on our southernmost Great Walk, where bush meets beach on Stewart Island, is outstanding.
A 32km loop, with 3days of intermediate tramping.
Huts: $22 adult/per night