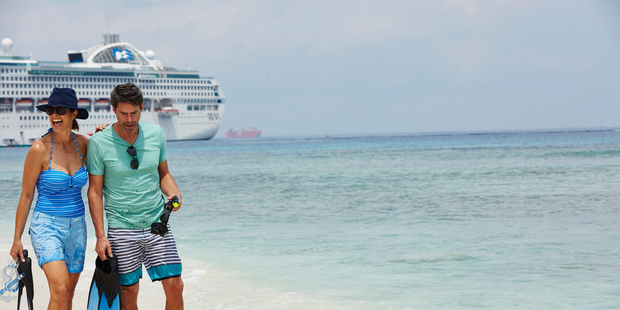 Papua New Guinea is a rare and exotic cruise destination of misty mountains, smoking volcanoes, jungle drums, bare-breasted dancers and shy excited smiles from locals. A place where travellers not only connect with ancient tribal cultures, but also with compelling Australian wartime stories.
The beauty of the landscape and of the people with their big-hearted welcome is striking.
"The locals are very friendly and they want us to know their country," says Sun Princess shore excursions manager Elena Lorini, an Italian who has worked on cruise ships all over the world since 2000.
"You have more interaction here with locals than a lot of other ports and they put in more effort. I find it amazing. The passengers love it here. It's a completely different destination."
On a recent cruise to PNG on the Sun Princess out of Brisbane, our 2000 passengers sail into fascinating ports in Rabaul, Alotau in Milne Bay and Kiriwina and Doini islands, where they venture ashore to interact with locals in a big way.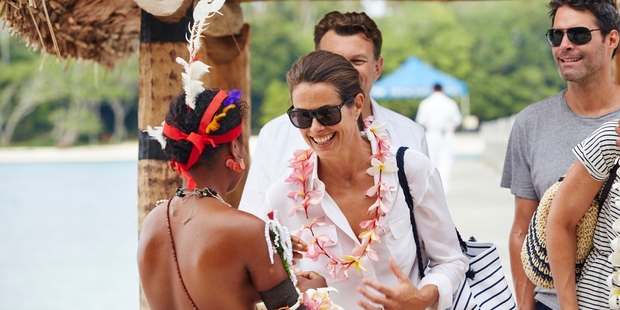 They paddle us out in canoes to snorkel spots, lead us on foot through villages and schools, dance in tribal costume, sing us heartfelt songs of welcome and tell us about their ancient culture of bride prices, betel nut, mu-mu food, yams and shell money.
Our guide in Rabaul describes how he survived the volcano eruption that devastated the town in 1994.
"We were watching an NRL game on TV when it happened," George Diap says. "The TV was shaking and I was the youngest, so they made me hold the TV. We walked out of town after the game finished and the old people told us to go."
Princess Cruises started cruising to PNG only three years ago, but a dozen more trips are scheduled this year and next.
Princess and P&O are the main cruise lines, but PNG is also attracting attention from others, such as Cunard and National Geographic, which sent their first ships in September.
Milne Bay Province, which takes in the Trobriand Island group and is now a cruise hub, will host an incredible 57 cruise port calls next year.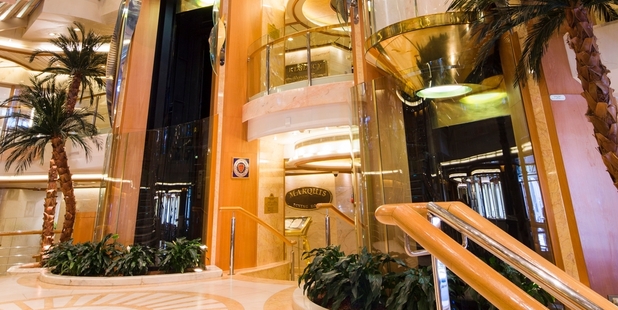 With all this new attention, it's a good idea to get there before it changes.
Life is still simple on the islands, with an innocence and shyness among locals, and we found their sightseeing tours ashore rough and ready, but surprisingly good.
We visited the Rabaul war museum and cemetery, where 1036 World War I and World War II soldiers from Australia, New Zealand and other countries are buried.
For one of our passengers from Ballina, this was a personal and emotional pilgrimage as she found the name of a relative listed as missing in action from 1945.
She was able to pay tribute to her lost uncle Dick by writing in the memorial record book.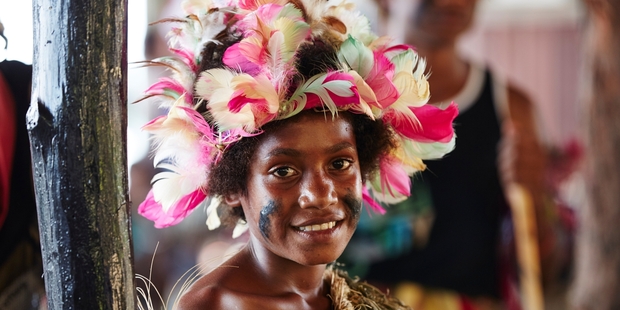 We also had on the ship two 94-year-old war veterans who had fought in PNG.
It seems a shame that most of us probably know more about the history of Pearl Harbour in Hawaii than that of PNG.
For my 78-year-old father and I, our trip on the Sun Princess was also a trip back in time, as we lived in Madang on the mainland northern coast from 1968 to 1972, where he worked in aviation - and we survived a 7.0 magnitude quake.
As we walk among the locals, I speak to them in broken Pidgin. "Papa bilong me," I say and they smile. At the market, they offer Dad a walking stick to buy. Not yet, he replies and they laugh with a thumbs-up.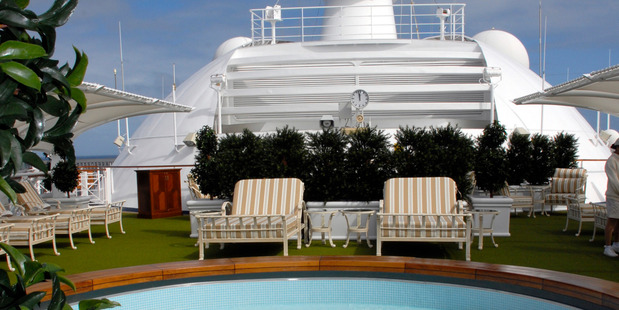 In Rabaul, Diap takes us to WWII Japanese war tunnels, to a volcano observatory and a ghostly site with a bubbling hot spring to view the black volcano that erupted in 1994, and is still smoking. He also tells us about shell money and how it costs 1000 kina ($484) to pay the bride price (paid by a groom or his family to the parents of the woman he is marrying), and how boys are initiated at age 15.
In Alotau, at a local high school of 800 children, a 15-year-old schoolgirl proudly shows me around and a school choir sings the PNG national anthem about being free. We see tribal dancing and choirs at a preview of the annual Alotau Festival held in November, which was special because last year marked 40 years since PNG independence.
PNG is still a traditional and religious country of 7.5 million people and 750 languages. Tribal culture is alive on Kiriwina Island in the Trobriands, yams are traded as currency and there are love huts for women to select partners. Locals with red mouths chew betel nut, there are cheeky funny children and market souvenirs for sale, including exotic wooden carvings, sarongs, string bags called bilums, shells and T-shirts.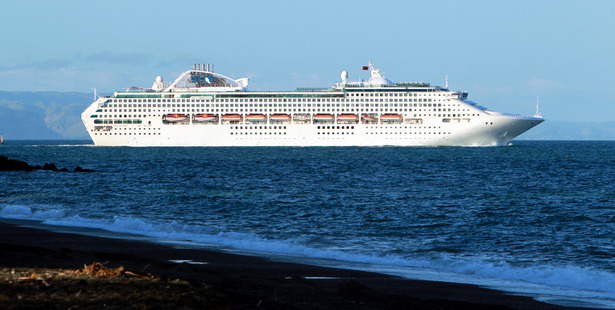 Pearls of PNG
Cruising is the one of the best ways to explore Papua New Guinea. Visit large towns and remote islands, enhancing your experience with sightseeing options in each port.
ALOTAU
Wahuhuba Historical Site: On August 24, 1942, the Japanese invasion force began the Battle of Milne Bay.
Alotau War Memorial: A sombre reminder of the battle, it honours the number of troops and Papua New Guineans wounded or killed.
Alotau Cultural Festival: Nestled against blue-green mountains, this quiet seaside town comes to life with vibrant chanting, dancing and kundu drumbeats carrying the stories of an ancient race to the seafront venue.
RABAUL
Volcanic Observatory: The Mt Tovanumbatir facility monitors 14 active and 23 dormant volcanoes and offers breathtaking views of Simpson Harbour.
Kokopo Cultural and War Museum: Vehicles, weapons, photos and relics from Japan's 1942-45 occupation, as well as aircraft wreckage discovered in the past 60 years.
Japanese Tunnels: The invaders built 500km of tunnels to conceal ammunition, hospitals, paths connecting barracks with their headquarters and more.
KITAVA ISLAND
Beautiful island with crystal-clear water, perfect for swimming or snorkelling. Fish, starfish, coral and sea urchins can be seen in waist-deep water.
DOINI ISLAND
Privately owned island with 1000ha of incredible landscape; most is uncharted territory waiting to be explored. Beautiful white beaches line its shores.
KIRIWINA ISLAND
Home to the tiny district capital of Losuia, most villagers are subsistence farmers who rely on yam, sweet potato, taro and cassava crops. The mostly flat island is bisected by footpaths and a few dirt roads. During WWII, the US Air Force had two bases at the airstrip in the north.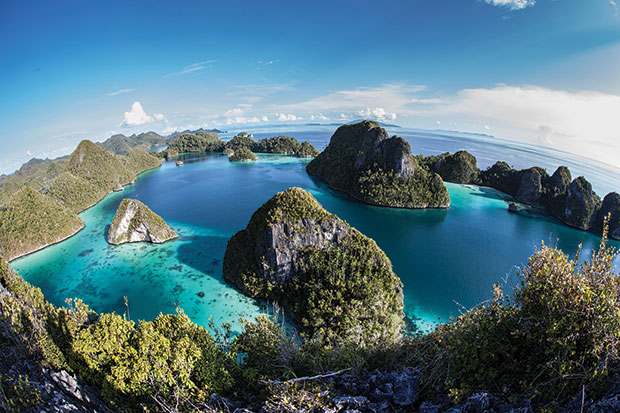 Checklist
DETAILS
A 20-night cruise to Papua New Guinea roundtrip from Sydney onboard the Sun Princess, departing September 14, 2016 costs from $2839pp, twin-share (includes $300 onboard credit per room).
The fare is valid until April 30. For more information and bookings see a licenced travel agent, or visit princess.com.
For more info ph 0800 666 888 helloworld.co.nz/UniqueExperiences
- AAP