Shandelle Battersby relaxes at Palm Grove Resort in Rarotonga.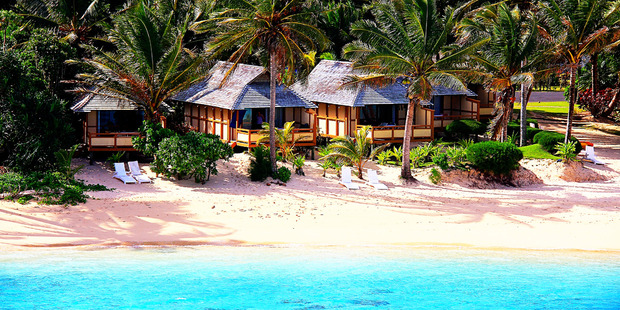 Location: In the village of Vaimaanga on the southern part of Rarotonga, halfway around the island from the main town of Avarua.
Room: One of the resort's 13 beach bungalows, located right on the sand. There are also 13 garden bungalows across the road. Each has a small kitchen, air con, ceiling fans, telly, stereo, and best of all, a private patio with table and chairs and a lounger. The high ceilings are arched and the walls are thatched, and the beds are covered with a bright floral cloth. Very tropical. There is real milk in the fridge (UHT) alongside a pitcher of chilled water, and there's a communal barbecue you can use.
Check-in experience: Casual and friendly. If you're coming/going to the airport, there are free transfers available.
The bed: Two singles pushed together to make a comfy king.
The bathroom: Pretty flash, with a nice vanity and a stand-alone shower.
The beach bungalows also have an outdoor shower.
Toiletries: A basic range called Pacific's Frangipani.
Food and drink: Onsite restaurant and bar Yellow Hibiscus is open for breakfast (the very good continental brekky is complimentary for guests), lunch and dinner. I recommend its excellent ika mata (raw fish marinated in lime juice, served with coconut cream). There are also complimentary drinks on Fridays from 4.30pm-6pm, Sunday is barbecue night, and there is live music several nights of the week.
Exercise: There's a pretty onsite pool, or borrow a kayak or snorkelling gear from reception ($10 bond applies, make sure you wear fins or reef shoes in the water).
The views: Lagoon, lagoon lagoon. Beautiful.
What's in the neighbourhood? The tourist area of Muri Beach is about 10 minutes away, and before that is prime snorkelling spot Fruits of Rarotonga.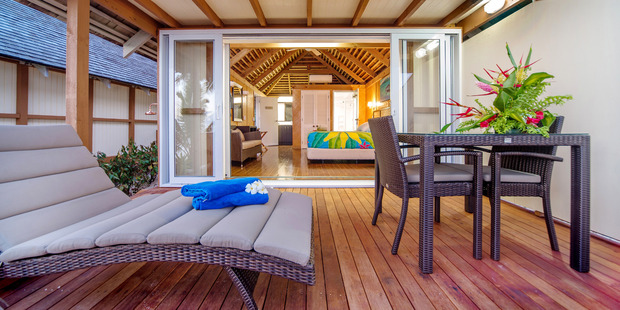 Price: From $235.
Noise: Just the crashing ocean. And some roosters.
Consider: Ordering a head or neck 'ei from staff member Tangi to wear on a special night out.
Don't: Feed the animals - dogs, cats, mynah birds or chooks - but there are two dogs and a cat who live at Palm Grove, and they love a friendly pat.
Online: palmgrove.net
Free wi-fi? Barely anywhere has free wi-fi in Raro. Don't do it. Borrow a book or board game from reception instead.
What's so good about this place? Whenever I think about running away to a tropical paradise, this is exactly the sort of accommodation I dream of: simple, with the golden beach and aquamarine water just steps away. The facilities are good and the food and staff are great.