Elisabeth Easther checks into the QT hotel, Port Douglas, Tropical North Queensland.
Getting there:
A taxi from the airport costs A$150 (NZ$168), a shuttle costs $41pp each way or you can rent a car and avail yourself of all the fun things to do around Port Douglas - unless of course you just want to nestle by the lagoon pool forever.
Check-in experience: Everyone at QT is so calm and friendly; it's like walking into a mate's uber-chic beach house. I have no idea how the flawless (yet not at all intimidating) young woman at the front desk managed to look so elegant and serene in that extreme heat.
The resort: Expanses of white tiles set against black-and-white striped blinds, there's an unrowdy bar down one side (with table tennis and pool), and a dining area on the other where ceiling fans lazily oscillate. Pretty water lily ponds, home to turtles, carp and four giant barramundi, complete the glamorous picture.
Connectivity: Guests can enjoy free wi-fi on as many devices as they care to travel with.
The room: With a separate living and bedroom, we also had a kitchen where we could easily have produced a complex meal if we'd felt so inclined. Plus, you can buy everything you see in the apartment, from cushions to lampshades, the brightly coloured round mirrors, and black-and-white ornamental wall paddles.
The bed: Comfortable as clouds with snowy white linen and about three pillows wide. The ornamental pineapple candle beside the bed was also available for purchase.
The lagoon pool: This beautiful water feature deserves its own postcode, which means there's plenty of space so families and couples need not collide. A small handful of massive round sun loungers with canopies, known as cabanas, are available for the early risers and during peak times you can avail yourself of the swim-up bar.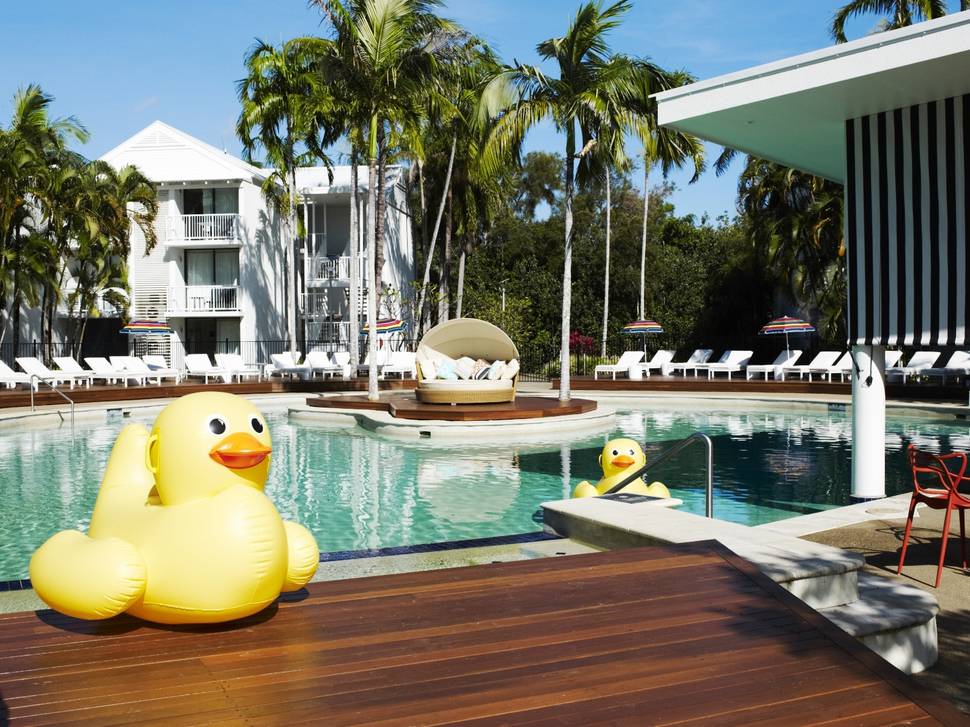 On dry land:
Facilities also include a designer day spa, massage treatments, a fully equipped gym with a 25m lap pool, as well as personal and group training sessions. They even teach Zuu, the body weight training method used by military and elite athletes, classes are led by Rupert Sakora, the resort's dashing general manager.
Getting around: If you don't have a car, groovy retro bikes can be hired, so be sure to pack your pedal pushers.
Bathroom: A genuine spa bath with jets, plus shower over bath, two basins, all very nice.
Toiletries: Malin and Goetz tubes of peppermint shampoo, cilantro (aka coriander) conditioner and rum body wash. Genuinely good quality.
Mini bar: Full of treats, aside from a wide range of drinks and nibbles, it also contains emergency jandals, a beach ball in a tin, a disposable underwater camera, sunscreen and vintage games.
Eat it: The breakfast buffet was top notch, and we've seen a few. The delectable hash browns and little pork sausages were declared "boss" by the young companion, while the fruit toast rocked my world. The fresh fruit included some truly exotic options such as rambutan, soursop, jackfruit, carambola and sapote (aka chocolate pudding fruit). Plus there were waffles, churros and all the cooked options a person could dream of.The Bazaar restaurant is inspired by a international street stalls, souks and bodegas.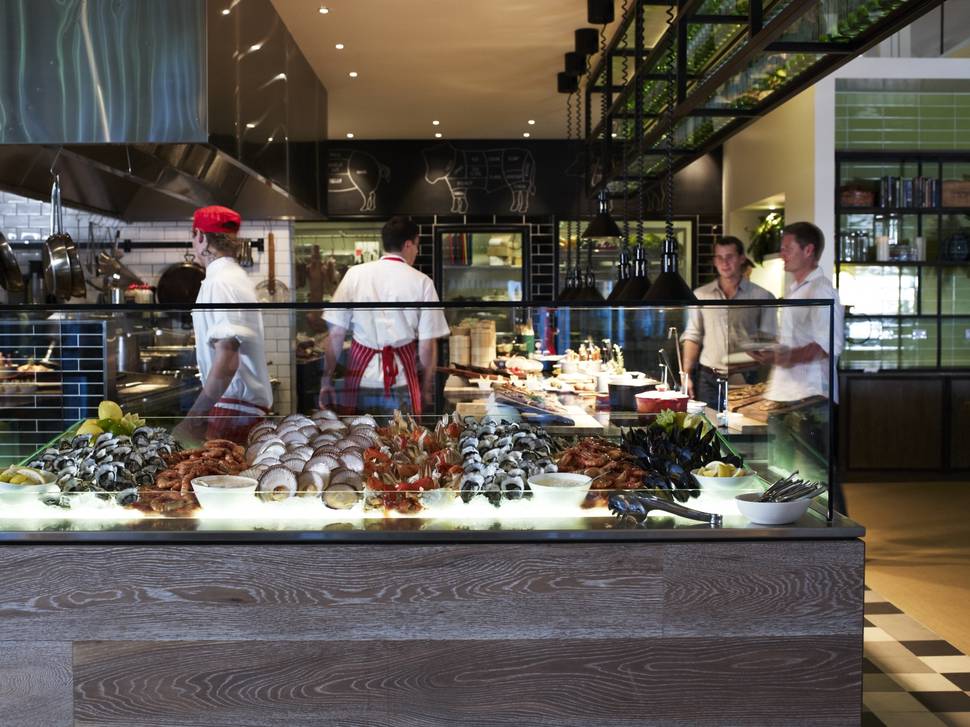 Noise:
Aside from the gentle swoosh swish of the ceiling fan and the occasional tropical downpour, QT is peace on a stick.
What's in the neighbourhood: Port Douglas' famous Wildlife Habitat is five minutes up the road, or head the other way and pop into the township for boutique shopping, fine or casual dining, nautical adventures and tropical seaside village vibes.
The verdict: Utterly smashing.