Cycling adventures show off the country's most exhilarating views, discovers Ellie Mitchell.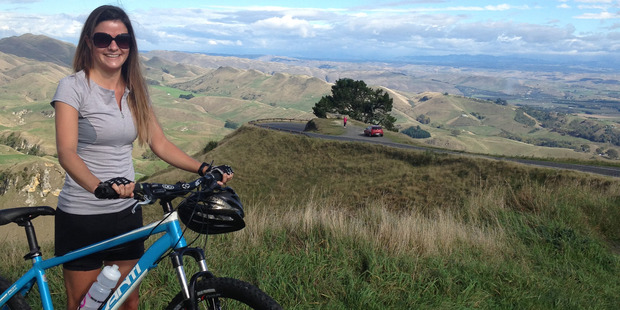 I will never forget flying down Te Mata Peak as fast as we could on our trusty two wheels, feeling sheer exhilaration. And some relief having just accomplished the 6km ride to the top. I won't lie, it was a challenge as we climbed to 371m. The reward was not only the downhill finale but also the unbelievably stunning 360 degree view of the Hawkes Bay region and the applause we got at the peak from friendly locals.
We were on our first cycling adventure with Ventouro luxury bike tours and felt very lucky to be guided by founder, ex-pro rider and double Olympian, Tim Gudsell. We couldn't wait to explore some of the 180km of trails that the bay has to offer. I could tell my weekend exploring Havelock North, Napier and Hastings was going to uncover many hidden delights in a region known for its top wines, bike trails and delicious food.
I had joined a wonderful group of dairy farmers from Waikato on their yearly vacation together - all 16 of us were accommodated in three of Black Barn's three luxurious Poplars retreats in the beautiful Tuki Tuki River Valley.
Although secluded, the retreats are just a short drive from Havelock North town with its great shopping, and handy to the award-winning wineries. Only a two-minute stroll away was the Red Shed, where Tim and his crew were based, where we could enjoy a game of tennis,river swimming and trout fishing.
It was hard to contemplate leaving the comfort of the retreat, luckily we didn't have to go far to spend a perfect evening at Poplars 3, where we propped our achy limbs up at a four course dinner prepared for us by in house Italian chef, Raffaella.
Spoilt for choice with dining options, my other pick would have to be Black Barn Bistro, voted one of the top 10 vineyard visits in the world. You can easily spend a day here visiting the boutique vineyard's cellar door and its White Wall Gallery featuring works by significant New Zealand artists. Every Saturday morning you can amble around the growers' market, nestled in the heart of the vineyard.
My favourite ride of the weekend was the wineries trail, gliding along beautifully flat limestone paths that are elevated, providing fantastic sweeping views of the many orchards and vineyards. It was quite a challenge dodging the cows and sheep which happily grazed around us on the 25km to the gorgeous Ngatarawa vineyard for a delicious lunch and a guided wine tour with head winemaker, Peter Gough.
You really can't beat a tour with Tim and Ventouro, with other trails on our four-night retreat including a Napier water ride, landscape ride to world-renowned Cape Kidnappers golf course, a ramble to the iconic Puketapu Pub, positively buzzing on a Sunday with the locals. And always good food and wine not far behind. The Tuki Tuki river ride on our last day concluded with a delicious lunch at Vidal Winery.
Tim tailors the rides to suit everyone's level, whether you're like me, an average rider who wanted to be pampered and guided to the tastiest food and wine or a more advanced training camp rider. We went home via Napier's hot springs to ease our aching muscles, feeling refreshed and wonderful.
NEED TO KNOW
As well as Hawkes Bay, Ventouro tours Martinborough, Central Otago, Coromandel, plus Adelaide and Noosa. Training camps starting in August, tours in November with bookings open now. Travel distances depend on the group: my longest day was around 50km, shortest 20km, but a more advanced group the week earlier did between 45km and 100km per day. The five-day Black Barn retreat is $2690, all inclusive.
Ellie Mitchell was a guest of Ventouro.