Robert Colvile finds delights away from the decadence.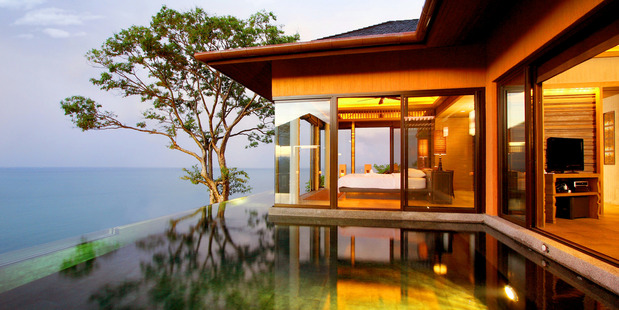 It seems a strange thing to say about an earthly paradise, but Phuket has something of an image problem. Its golden beaches and sweltering temperatures have made it synonymous with sunshine and sunloungers, but it's also all too easily associated with low-end tourism.
Then there's the sheer range of entertainment that the island offers. The main town Patong can be colossal fun if you're in the right mood, but in the evening can sometimes resemble Gomorrah with a cocktail umbrella (one guidebook notes that tourists wandering main drag Bangla Road may be surprised by the number of "transsexuals, prostitutes and occasionally, transsexual prostitutes").
Certainly, when my girlfriend and I arrived at Phuket International airport for the first proper smart holiday of our lives - having excitedly bid farewell to backpacks and backache and said hello to wheeled luggage and the full-length beds (and delightful liqueurs) of business class - there was little sign that we were entering the promised land.
The hour-long drive from north-west to south-east took us past the standard mix of condos, shacks and shopping malls, with nary a sun-drenched beach in sight.
It was only when we arrived at Sri Panwa, the resort that slices off the tip of the Panwa peninsula, that things moved thrillingly upmarket.
Each clifftop villa, with bedroom and living room "floating" in a private infinity pool, is sited so that you can imagine that you're all alone with the sea, shore and sky.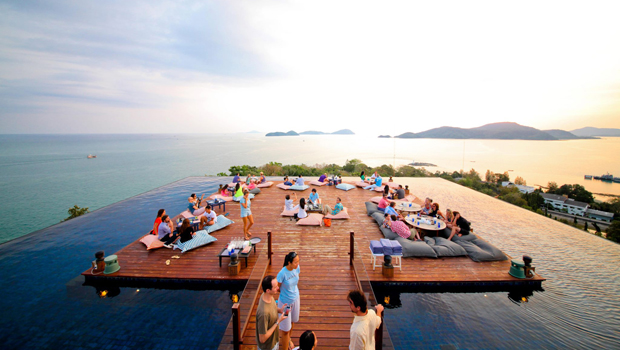 Sri Panwa's Baba Nest rooftop bar. Photo / Supplied
If you want you can join the free yoga sessions at the health club, play a gentle game of tennis in the blistering tropical heat, sip cocktails at award-winning rooftop bar Baba Nest as the sun sets over the distant islands, or take a Thai cookery class.
Not that you'll need them, given the excellence of the catering at Sri Panwa and the generosity of the portions - the two of us often struggled to finish a single main course between us.
As a result, we found ourselves so swaddled in comfort that it was near-impossible to summon the willpower to leave the resort, stirring sleepily from the sunlounger only to find we'd already lazed most of the day away.
Eventually, however, we managed to drag ourselves away from Sri Panwa's comforting embrace.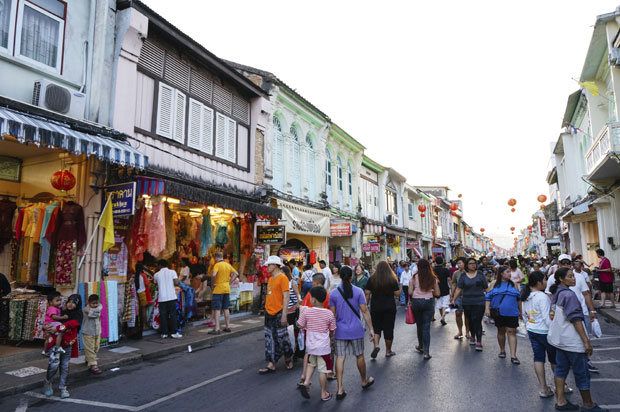 Phuket's Old Town livens up during February's festival week. Photo / Getty Images
It was lucky that we did, for we soon found that Phuket offers enough attractions to suit any taste. The aquarium, for example, isn't in the best state of repair but it's cheap to visit and the creatures inside are a feast for the eyes (plus there's a turtle hatchery out the back that should delight children).
Phuket Town, the more old-fashioned counterpart to Patong's party capital, has some decent colonial architecture, but is really only worth visiting at night, when the streets come alive.
Activities you can do during the day include plunging into the rainforest, much of it protected as a national park; visiting the Gibbon Rehabilitation Centre, where gibbons abused in the seedier bars on Bangla Road are cared for; or playing a few rounds on the lushly verdant golf course.
Perhaps our favourite landmark was the recently completed Big Buddha. Up close, it was impressive enough, but what worked even better was to see it from a distance, sitting atop a ridge of stone as if it had been there for thousands of years.
Admittedly, we fell into the usual tourist traps. Descending the road from the Big Buddha and determined to leave no tourist cliche unturned, we stumped up for an elephant ride and jolted our way along a dusty track as the disinterested beast stripped the foliage from the trees with single-minded intensity.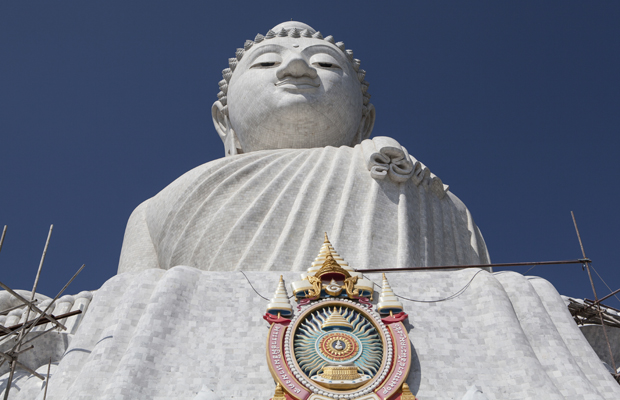 Phuket's Big Buddha. Photo / Thinkstock
All told, we gave the island's interior a thorough inspection but were always drawn back to the sea.
The best memories from our week-long stay all revolve around the water - gazing across the bay as we bobbed in our pool or tucking into succulent monkfish that tasted as if it were minutes out of the ocean.
The greatest experience happened midway through our stay at Sri Panwa.
Four days into our trip we hired a speedboat and crew and headed south at high speed, weaving our way through densely forested islands before beaching an hour later on a tiny stretch of white sand that would serve for the day as our own private stretch of paradise.
We lolled in the shade, sometimes venturing into the sea to snorkel lazily along the reef or paddle in a slow circle around the lagoon.
It was one of those rare days which even as you experience you know absolutely will live with you for the rest of your life.
And then it got even better. Sated by sheer indolence, we eventually asked the crew to take us back. They obliged but suggested a stop-off at an island nearby.
On arrival, the engines were killed and the crew plunged into the water. Following their lead, we leapt overboard - to find ourselves surrounded by hundreds of shimmering tropical fish attracted by the froth of our propellers.
As the boat took us back to Sri Panwa - and we took stock of our incipient sunburn - we found we couldn't stop giggling, giddy with the experience.
Backpacker or business class, Thailand's natural beauty is free.
CHECKLIST
When to go: High season for Phuket is between November and February, but if you're happy to brave the heat, you can get better deals during the scorching months between March and early May. If you're willing to brave the rainy season, prices plummet in June, July and August - and although the showers are intense, they're often brief (and the smell of the jungle after the rain is glorious).
It's also worth timing your trip to coincide with some of the island's many festivals, such as Loy Krathong in November, with its floating "leaf-boats" that are sent bobbing out to sea, or the Vegetarian Festival in October, whose name does absolutely nothing to prepare you for the stomach-churning reality.
Getting there: Thai Airways flies direct from Auckland to Bangkok, from where local carriers go to Phuket.
Further information: See tourismthailand.org.