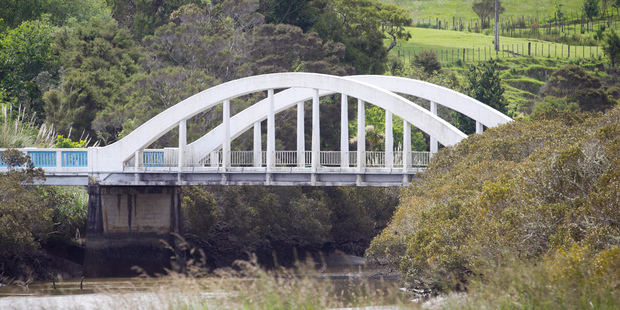 Just 45-50 minutes northwest of Auckland, via SH1 and SH16, you'll discover Kaukapakapa on the delightful Kaipara Coast. Aside from smashing rural and coastal views, you'll also come to the Kaipara Coast Sculpture Gardens, on a rural property with views over the Kaipara Harbour.
There, a 1km trail takes you through a range of pretty gardens where visitors can admire close to 60 sculptures created by established and emerging New Zealand artists. The gardens, inside the Kaipara Coast Plant Centre, are open seven days a week (adults $10, children $5) and the cafe is open Wednesday to Sunday from 9am until 3pm. Or you can go for a wander around the Omeru Pa Scenic Reserve, featuring waterfalls, lovely old fruit trees, a lookout and a fortified pa site.
The reserve is just 5km north of Kaukapakapa on SH16, near the Makarau River. The waterfall walk takes only 10-15 minutes so if you're after a more serious workout, dubbin your boots and head up Mt Auckland (Atuanui). The walk takes 110 minutes to the summit - a 7km round trip. The track passes through regenerating native forest and the summit lookout, at 305m, rewards walkers with panoramic views of Kaipara Harbour and Hoteo River estuary.
• If you'd like to share your favourite Sunday drive, email Elisabeth.