The city's knuckly notoriety no longer applies. Tourists come now for a laugh. And, as Ewan McDonald found on his pilgrimage - of arts, culture and fitba' - there's plenty.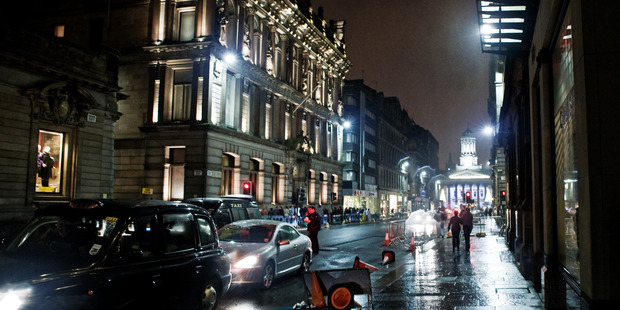 Saturday. Dusk going on night. That hour, or less, when a city reveals its real self: shoppers trudge carrier bags to the bus stop or scrabble for keys in the mall carpark. Cafes empty; baristas make up the tab for the four women at the corner table. Football fans raggle-taggle into the pub from the stadium, chuffed or choked.
Glasgow. A bustling, brawling city of legends, of characters and achievements and parties and hangovers larger than life and, as it hosts the Commonwealth Games, a gritty, grungy, glorious, gobsmacking conurbation of contradictions.
It's the first time I've stayed here. Passed through once, 30 years ago, in a purple Mini wrestling with the clogged aorta of a ring-road trying to find the romantic route to the Highlands and Islands.
So I don't know what to expect. Arriving in any city, its mythology always looms large. Here, football, Celtic versus that other mob.
Half a million Billy Connollys striding out of the shipyard looking for a pint or a fight or both, yelling, "Wha' Jimmy, you got a problem wi' that?"
Even the name doesn't sound Scottish. Edinburgh. Dundee. Inverness. Those are Scottish toons. The haute of cuisine would be a deepfried Mars Bar. As for higher things, Little Englanders sniggered when Glasgow was decreed a European City of Culture. Ahead of Milton Keynes and Barnsley.
Sure, Glasgow is hearth and home for rollicking, bollocking Connolly and Robbie Coltrane. For hard men on the fitba' field - Dalglish, Docherty, Stein, Ferguson - and in the kitchen (Gordon Ramsay). It's a testosterone town. Google "famous Glaswegian women"; the top result is Lulu.
It also sired Sir Thomas Lipton, Keir Hardie, RD Laing, Kelvin, Watt and Donovan (oh...). It has one of the most influential art galleries in the "British" Isles. It is showing Western cities how to re-engineer - an appropriate word for Glasgow - a moribund Victorian industrial metropolis into a people-friendly living, working and visiting space.
It's not a big city centre, and not an ostentatious one. You can walk around the main shopping and mingling streets - Argyle, Buchanan, George Square - in a morning. Get lost in the byways, the boho and the whimsies like Princes Square, three floors of boutiques under the glassed-in roof of a Georgian merchant's townhouse behind a facade of writhing wrought-iron art nouveau leaves.
Buchanan Centre and St Enoch's Square are malls - the climate predicates that - but everything seems on a smaller, human scale. There are family businesses, kiltmakers, pastrycooks and jewellers who might have been here for six weeks or six generations. A plaque on one building notes Robbie Burns stayed on this site several times while visiting Glasgow in 1787-91; Marks & Spencer must have had a good deal on long johns.
Perhaps the locals' self-deprecating humour and colossal trading and industrial history tend to override its genuine cultural and architectural attractions (see panel). But it does have charm.
It's one of those cities where you might pitch up as a stranger and feel at home, or that you might find a home here, after a chance conversation in the street or a pub. Provided you follow the advice on the door, and don't wear football colours. If you choose to, you'll be advised to leave. Possibly gently.
Just off the main drag, the Merchant City was once the realm of traders who made themselves rich on the profits of tobacco in the 18th century. Since the late 80s it has been gentrified - not a word frequently used in the same sentence as Glasgow - with luxury flats, warehouse conversions, cafes, restaurants, even more boutiques.
A few bus stops away is the West End and Kelvingrove Park - the city's, the country's and one of Europe's premier museums and art galleries, surrounded by just what you'd expect in the way of upmarket amenities in Paris, Rome or London, except that no one warns you to expect this in Glasgow.
Upwardly mobile only extends so far: the East End is defiantly working style, home of the Barrowland market and ballroom, Tennent's Brewery and the city's major place of worship - Celtic Park. Sadly, the Hoops are playing away this afternoon and I can't get a ticket for the other big soccer team in town. Pity, I wouldn't mind watching Partick Thistle.
Check my watch. At 4.30 it's dark on this late winter evening. I'm glad of the scarf, gloves and jacket bought at what I thought was Burns' favourite shop earlier in the afternoon.
Two hundred and twenty-something years ago the Black Bull Inn stood there and the randy, roistering, romantic Robbie met Nancy McLehose in this street, and the upshot was the painful, poignant ballad of their heartbroken parting, Ae Fond Kiss. Why don't we think of that, instead of something entirely different, as a Glasgow kiss?
There are few people about; the last shoppers and a couple of buskers. One plays Dylan, A Hard Rain's Gonna Fall. It already is. Another young man plays a tune that I've heard 12,000 miles away: "We'll never be royals, it don't run in our blood." Guess that's one more Yes vote for next month's independence referendum. Make my way back to the hotel, along a row of shops, bars and nightclubs I've known since I was a kid listening to the weekend request session on a crystal set in Wellington. Or from Taggart thrillers.
Well, Scottish novelist Alasdair Grey suggested Glasgow exists in its own, and the world's imagination "as a music-hall song and a few bad novels". I'm in Sauciehall St on a Saturday, and Glasgow belongs to me.
Glasgow's Top 10 Cultural Attractions
1.
Kelvingrove Art Gallery and Museum
2. Charles Rennie Mackintosh architecture (Willow Tea Rooms, Ruchill Church Hall, Queen's Cross Church, Martyrs' Public School, the Lighthouse, Daily Record Building, Scotland St School Museum, House for an Art Lover). Sadly, his masterpiece, the Mackintosh Building-School of Art, was seriously damaged by fire in May.
3. Burrell Collection (including Pollok Country Park, Pollok House)
4. Cathedral Precinct (including Provand's Lordship, Necropolis, St Mungo Museum)
5. Botanic Gardens, Kibble Palace
6. Glasgow University
7. Museum of Transport & Travel
8. Gallery of Modern Art
9. Glasgow Science Centre
10. People's Palace, Winter Gardens
Source: top-ten-glasgow-guide.com
CHECKLIST
Getting There: All three daily A380 flights from Auckland connect with flights to Glasgow through Emirates hub in Dubai. Return fares in Economy start at $3139.50, with $10,969.20 for Business.
The writer travelled as a guest of visitscotland.com and Emirates Airlines.