Anywhere he can tune into a Warriors' game is the perfect holiday destination for this Sky Sport presenter.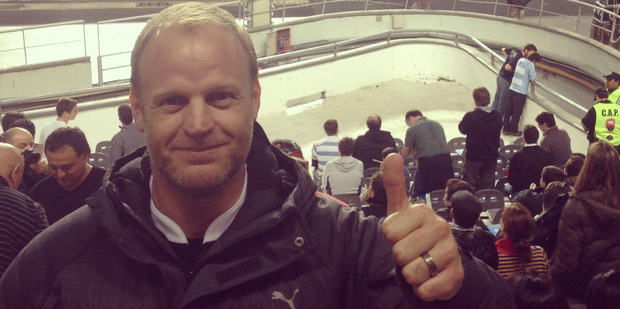 What was your greatest holiday?
It really is a toss-up between the time I scooted around Europe for a month and found $1 beers in Prague that were so good I wanted to apply for residency, or the one where I got engaged on Copper Mountain in Colorado and took in NFL and NBA games.
I think I'll go with the engagement one - I made her come down a run, which was icy. She caught an edge and hurt her wrist but after she said "Yes" it was miraculously fine. Also, at the bottom of the run, at the chairlift, there was a sign saying, "It's all uphill from here."
And the worst?
The time I got sick in Bali on the second to last day and had to fly to Delhi overnight on Singapore Airlines. I'd like to take this opportunity to once again apologise to Singapore Airlines, the flight crew and the ground crew in Delhi that day.
I was "quarantined" in my hotel room in Delhi for four days and was eventually given a nuclear bomb of antibiotics as a last resort. As we always say at The Crowd Goes Wild: "You're just one stomach flu away from your goal weight."
If we bump into you on holiday, what are you most likely to be doing?
Drinking and eating, while watching the Warriors or Hurricanes on SKY GO.
If we could teleport you to one place in New Zealand for a week-long holiday, where would it be?
Queenstown or Wanaka. It has everything I want in a destination and it really is orientated towards tourism without being overblown ... yet. The locals might disagree.
How about for a dream holiday internationally?
Anywhere in the US, specifically orientated around a snow resort and the ability to get to an NBA or NFL game. I like to actively relax and then, if that teleport machine thing you have is still available, I'd like to go to a beach resort like the Semara, in Uluwatu. Clifftop infinity pool looking down on a private beach? Yes, please.
What's the dumbest thing you've ever done when travelling?
1. Drinking with ice in my drink on my second last day in Bali before flying to Delhi.
2. Leaving my passport on my bed in London and spending £80 ($149) on a taxi.
3. Leaving a multitude of chargers in hotel rooms.
Complete this sentence: I can't travel without ...
... a powerboard. It makes so much sense to have one universal plug adaptor and then have a powerboard so everything else that you need a plug for is sorted.
What's the best travel tip you've ever been given?
Repack, don't close up the suitcases after just one attempt. Go again and cull after the initial pack.
What was the most memorable meal you've had while travelling?
Went full-on and tried Nobu in London a few years ago. Was amazing. Also In-N-Out Burger in San Francisco at the complete other end of the scale. I also lived in Tokyo for six months and the food everywhere was great - from street food to restaurants.
What's the best thing you've brought back from a trip?
A fiancee! Hilarious line, huh? But apart from that it was being a guest of allblackstours.com on a tour to South America and then on to South Africa following the All Blacks last year. We stayed at Entabeni Game Reserve for three nights and saw virtually all the wildlife my camera could hold and then on to the greatest test I've ever seen, in Johannesburg.
Favourite airport to land at?
Something about landing at Heathrow or even JFK and having the two greatest cities nearby gives me a sense of excitement.
What's the next trip you've got planned?
I am in Glasgow for the Commonwealth Games with SKY Sport and The Crowd Goes Wild and, as we have a six-month-old boy, the next trip will be anywhere that has a kids' pool for him to pee in.
The Glasgow Commonwealth Games are on SKY Sport channels 3-8, with free-to-air coverage on Prime.