Exclusivity and privacy is still available for a family holiday in the sun, even at bustling Phuket, finds Leanne Chamberlin.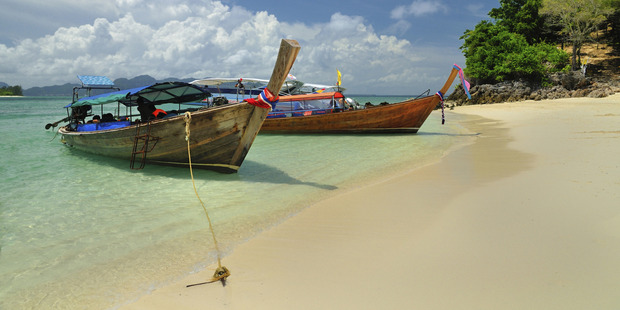 I'm over family holidays. Not my own family's holidays - other people's. Enough of "family friendly" resorts; this year would be different. We would shun the beaten track for a taste of Asian adventure. Ha.
The road less travelled was experiencing a traffic jam.
While I'd been baring my teeth at splashy strangers in Fiji's resort pools, Asia had snuggled itself under a seething blanket of tourists.
New frontiers were only accessible via non-connecting flights, stays in risky cities and unreliable boat trips.
Swayed by a bargain airfare, I sold out. So much for getting away from the masses.
Phuket was so un-intrepid that even my parents had been there - twice.
Intrepid it may not be, but for those suffering family-friendly fatigue, Phuket still has a few things up its sleeve.
Here are three ways to enjoy Phuket, unplugged.
1. Go in low season
Low season in Phuket corresponds nicely with our dismal winter. Accommodation prices drop, sometimes dramatically, making Phuket affordable at the time we most desire it.
This coincides with Northern Hemisphere summer when a whole swag of Europeans tend to stay at home.
That means more loungers for us.
Low season in Phuket brings the monsoon rains, which sound more threatening than they really are.
You might encounter a shower or two, but who cares when it's 30C during the day, plummeting to ... er ... mid-20s at night.
The downside to monsoon season is that many Phuket beaches are affected by strong currents. They are still beautiful to visit, but be careful and keep the kids in the pool.
2. Stay away from Patong
Unless you have an affinity for neon apocalypses, choose accommodation in a different area. Do go for a night out there though, without the kids, to see what you're not missing.
For a beautiful, quiet beach you could do worse than Nai Yang, such an overlooked gem that I almost don't want to spread the word about it. Just five minutes from the airport, this seaside village hugs the adjacent national park. Its tepid, clear waters are safe for swimming even in low season.
Quiet restaurants dot their tables along the beach where you can tuck into soft-shell crab for less than NZ$10.
The prize for top digs in Nai Yang goes to the Indigo Pearl Resort and Spa. Yes, it's a resort. But this boutique family-owned enterprise is so different from its chain-hotel peers that it deserves a mention.
Before Phuket got its arguably better job as a tourist destination, the island was a tin mining colony. After the 2004 Boxing Day tsunami destroyed its predecessor, the Indigo Pearl's owners built a new resort reflective of the island's tin mining history.
Drawing inspiration from their family's tin mine in Phuket town, they masterminded a resort with an industrial theme that recently won Asia's Leading Design Hotel in the World Travel Awards, and Best Luxury Beach Resort in Thailand in the World Luxury Hotel Awards.
Relics from the family mine are put to decorative work throughout the resort, from the spanner-shaped cutlery to the industrial-bolt toilet roll holders.
Adroit use of mirrors turns showers into mine shafts. It's all very edgy and cool.
Three striking pools, an impressive spa and a variety of surprisingly well-priced restaurants - all blissfully empty in low season.
Another beach far from the madding crowds is Nai Harn.
An hour's drive south of Phuket airport, Nai Harn is a laid-back village boasting a golden stretch of sand recently voted one of Thailand's top 10 beaches.
3. Rent a villa
This is the way to get away from it all - apart from those you don't want to get away from.
Our group of six adults and six children hired the stylishly appointed Opal Villa in Nai Harn - one of a number available through thevillas-phuket.com.
With six large en-suite bedrooms, the adults and children all enjoyed their own space, and two lounges, a games room, and two outdoor living areas provided ample space to congregate.
It was like being at home, only a million times cleaner, and with friends thrown in for laughs.
Noi, the villa housekeeper/cook cheerfully shoo-ed us from any domestic chore we glanced at. She produced irresistible classic Thai dishes infused with fresh herbs and spices, then laughed us away when we tried to help clear the table afterwards.
While the children rarely left the sparkling private pool, the adults rarely left the dining table.
In-house massages were arranged and for $16 an hour we were pummelled, stretched and cracked. It was so good we repeated the experience daily.
It was difficult to tear ourselves away from the villa even to go sightseeing, but a minivan was at our disposal.
The driver parked outside our door from 10am until 11pm each day. It would have been wrong not to use him.
The amount of villa construction under way in Nai Harn suggests Phuket is poised on the precipice of a better way of holidaying.
No more breakfast buffet rage, no more arduous check-in procedures, no more ... ugh ... strangers.
If all this sounds like self-indulgent exclusivity, it is. However, for about the same price as a resort hotel, I'll take a Nai Harn villa during low season every time.
The only hard part is the inevitable return to reality.
THINGS TO DO
Phuket is a great place to do nothing, but if you can peel yourself off your lounger the options are limitless.
With kids:
Elephant safari - choose an organisation whose proceeds support an elephant sanctuary, such as Siam Safari.
FantaSea - elephants, chickens, tigers and acrobats onstage. Think Disney on acid.
Visit the islands - kayak, snorkel, dive ... go with a reputable company as some of the speedboat operators are cowboys.
Without kids:
Hire a scooter - a great way to get around, for NZ$8 a day.
Thai kick boxing - shows are on a few nights a week, in settings far more pleasant than you might expect. No holds barred, these are impressive displays of agility and reaction time.
Patong at night - for a crash course in all things seedy. Visit go-go bars, ladyboy shows, and erm ... let's call them ping pong exhibitions. Some of the live shows involve animals, but not in a good way. Don't say I didn't warn you.
CHECKLIST
Getting there: Thai Airways flies direct from Auckland to Bangkok every Sunday, Tuesday Thursday and Friday.
Further information: See tourismthailand.org.