As long as the sea's involved in some way, this singer-songwriter's in paradise.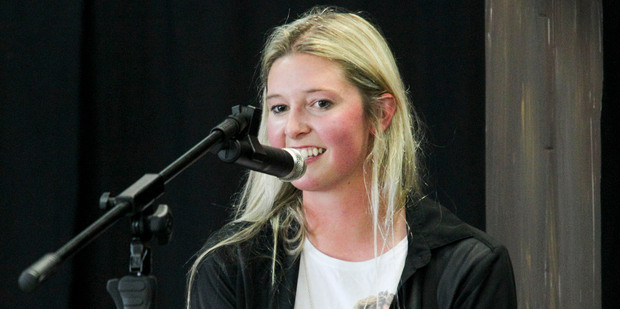 What was your greatest holiday?
I recently travelled to Costa Rica with the Contiki Storytellers, to not only explore the many attractions of the country but to learn more about their efforts in sustainable living.
There was a whole collaboration of things that made this trip the greatest. As a person who never finds herself too far from the sea, being able to kick off the trip ankle deep in the Caribbean was already exciting enough.
The real highlight of this trip though, what made it one that will stick with me forever, was the experience we were able to have working with leatherback sea turtles.
Alongside the Sea Turtle Conservancy, based in the small town of Tortuguero, we spent our first nights searching for these magnificent animals.
Joining us on this adventure was the legendary Contiki Cares ambassador Celine Cousteau (granddaughter of Jacques Cousteau) who has inspired me since my sailing days as a young child.
We were successful in finding two leatherback turtles up to 1.7m in length whose nesting process we were able to watch from start to finish.
It felt like Costa Rica had everything I was looking for in a travel destination - extremely happy and friendly people, wildlife, breathtaking sea and landscapes, and something to teach me. I'd go back in a heartbeat.
And the worst?
I honestly don't think I have a worst - I guess every opportunity to explore something different is exciting to me. As a songwriter, whether the experiences are good or bad there's always a song to come out of it, so it's always a worthwhile trip.
If we bump into you on holiday, what are you most likely to be doing?
I would've scouted out the nearest beach, or tried to get out on one of the boats. I'm always interested in learning more about the sea, wherever I am, and the best way to do that is get involved in it and ask the locals the right questions. Anything to do with the water, I'll be there.
If we could teleport you to one place in New Zealand for a holiday, where would it be?
Coromandel. I'm there every summer already, to be honest, but nothing beats white sand, consistent surf, deep green forests - it's got everything plus some great fish and chip shops!
How about for a dream holiday internationally?
The Galapagos Islands is somewhere I've always dreamed of going, mainly for the wildlife, especially the sharks.
What's the dumbest thing you've ever done when travelling?
I was lucky enough to travel to France when I was younger to explore famous art museums, back when I thought I might be an art historian. (Not really.) There was a group of us, and the athletic boys of the group decided one evening they were going to go for a jog around Paris.
I thought I'd tag along, not understanding that these guys were superhuman runners who soon left me, and the slightly injured members of the running team, behind. We lost sight of them but we were certain we knew the way back to our hotel. We absolutely didn't and spent about three hours lost in the streets of Paris (this was before we all had iPhones). We eventually got a policeman to help us find our way back.
Anyway, it made a good starting line for a song - "I found myself in the streets of Paris ..."
Complete this sentence: I can't travel without ...
... my guitar.
Favourite airport to land at?
Palmerston North.
What's the next trip you've got planned?
I'm hoping to get back out on the water again soon - a few years ago, I did my first ocean passage to Noumea. I've been dreaming about getting back ever since, so hopefully the next trip will be in the pipeline soon. Until then I'm focusing on finishing off my album.
For information on Jamie McDell's upcoming album and tours, follow her on Facebook and Twitter.