Mucking around with mates in Mexico and munching charred goat with Maasai warriors are fond memories.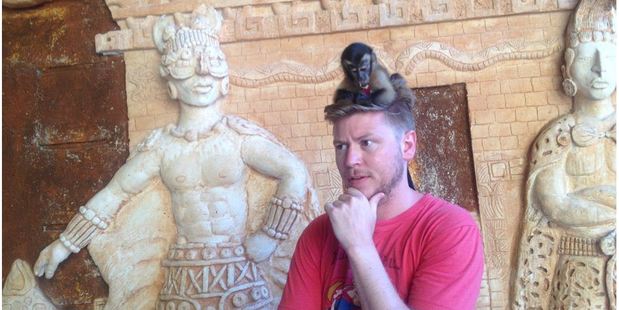 What was your greatest holiday?
Anyone who knows me knows that I keep banging on about a holiday to Mexico with a dozen great mates in 2012. It was equal parts magical and ridiculous. Ridiculous in terms of the organisation and logistics involved in moving 13 sunburnt Kiwis around Mexico, but absolutely magical in terms of the good times and memories that we came away with.
And the worst?
The only bad holiday experience that comes to mind dates back to being 12 or 13 and being on summer holiday with my family in Nelson. I'd decided it was a great idea to break my collarbone on Christmas Day, so spent the entire holiday unable to swim ... absolutely torturous.
If we bump into you on holiday, what are you most likely to be doing?
Not an awful lot. I'm all for relaxing holidays as opposed to cramming in activities.
Gimme a book and a cocktail next to a pool over climbing peaks or legging it from bulls.
If we could teleport you to one place in New Zealand for a week-long holiday, where would it be?
Really tough question, but ... Christchurch. I just don't get down to my hometown to visit my family near as often as I'd like to; the last time I managed to spend a week there, it was fantastic. You feel a strange disconnection as a Cantabrian who hasn't been there to experience what the city has been going through over the last few years, so any visit is made even more special.
How about for a dream holiday internationally?
I'm super keen to visit Japan. As far as I can see, spending some time in Tokyo is about as close as you can get to spending some time in the future! Add to that the stories I've heard of being able to hire a room full of cats, and the plethora of gadgets to shop for and I'm sold.
What's the dumbest thing you've ever done when travelling?
Leaving my passport and cash in a safe in a hotel room in LA then driving to Vegas wasn't the smartest play. Then again, neither was getting my eyebrow pierced in a tattoo parlour in Paris when I was 18.
Complete this sentence: I can't travel without ...
... feeling guilty every time I pass through Customs. Even though I've never done anything wrong.
What's the best travel tip you've ever been given?
Domestically, travel light and use only carry-on luggage. Internationally, don't share a cab with a strange dude in France. Liam Neeson taught me that one.
What was the most memorable meal you've had while travelling?
I was in Tanzania in 2009 with World Vision, and was treated to barbecued goat prepared by a tribe of Maasai warriors. It was carved right in front of us and, piece by piece, was handed out to the group straight from the knife.
What's the best thing you've brought back from a trip?
A fiancee! Ruth and I got engaged in Fiji at the end of last year. Definitely the greatest thing I've picked up on my travels.
Favourite airport to land at?
I love visiting Sydney. My brother and his wife live there with my two nieces, so it's always an exciting feeling landing in Sydney knowing I'll get some Uncle time!
What's the next trip you've got planned?
Ruth and I are hoping to get to New York this year to visit her sister and meet her new baby niece. I've never done the East Coast of the States, can't wait to wake up in the city that never sleeps.
Matt Gibb is hosting There & Back, a new local series on TVNZ Heartland, starting on Tuesday May 6, at 7.30pm.