Elisabeth Easther explores an outdoor oasis nestled in North Canterbury.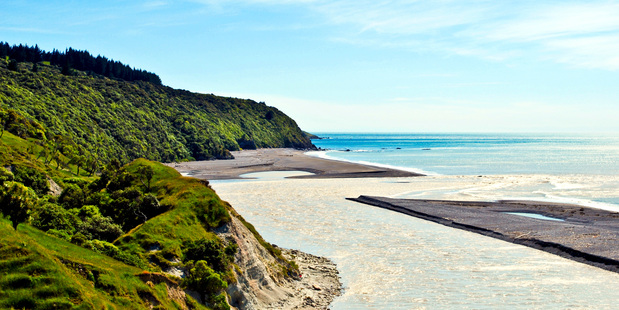 Where is it? In the Hurunui district of North Canterbury, on the East Coast of the South Island, 110km north of Christchurch and 8km from gorgeous Gore Bay.
Origin of name: Named by the original leaseholder, John Scott Caverhill, for the Cheviot Hills that divide Scotland and England.
Population: 1500, with about 400 in town and the rest living rurally.
Town mascot: The school and rugby club have the magpie as their mascot although it could well change to the daffodil for reasons that are obvious in spring.
Who digs it? Cheviot suits people who like being outdoors, with its great fishing, surfing, biking and golf. There is a club or society for almost every activity you can think of and it's also an attractive area for retiring to.
Famous local: Captain Charles Upham. He earned the Victoria Cross twice during World War II and remains the only fighting soldier to have been decorated with the VC and Bar.
Infamous local: William "Ready Money" Robinson put Cheviot on the map when he established Cheviot Hills estate - a massive holding of 33,600ha. After his death in 1889 the land was sold to the government and subdivided into 54 farms, making way for the town of Cheviot. "Ready Money" earned his name by paying cash for his extensive purchases.
Best website: cheviotnz.com.
Main employer: Harris Meats, with its abattoir and shop, has won every sausage award going. It operates a good old-fashioned butcher shop with carnivores visiting from far and wide to stock up. And farming.
Sources of price: The pristine beauty of the area with its rivers, dramatic coastline and rugged foothills.
Town fiestas: Cheviot Spring Festival is all about food, flowers and fun with garden tours, market stalls and a family fun day complete with farm animals and a bouncy castle. The Cheviot Hills Ride happens the same weekend as the festival. The Lions host the Kaiwara Classic mountain bike race every February, going over the hills between Culverden to Cheviot. The Cheviot A&P Show is another fantastic affair, ditto the annual pig hunt that raises money for the school, with people bringing everything from rabbits, hares, deer and pigs to the weigh-in.
To market, to market: Every Friday and Sunday you'll find local craftspeople selling everything from home-spun jerseys to felted flying helmets to tea cosies with stallholders spinning, yarning and knitting while shoppers browse.
Best place to take kids: Play in the Cheviot Hills Domain among the acres of trees and around the old foundations of Ready Money Robinson's mansion house, or head to the beach for sand and surf or to one of the bay's two playgrounds.
Best walk: Follow the purpose-built trail to the Cheviot Hills Domain with its majestic oak trees, specimen planting and natives under-planted with daffodils. Scramble around the rocks from Gore Bay to Port Robinson at low tide, or take the coastal track from Manuka Bay to the Hurunui River mouth.
Have fun: Surf in the ocean, jet boat on the rivers or fish for salmon and whitebait. Play a round at the 12-hole golf course or get some balls at the bowling club.
Best view: North of Cheviot on SH1 the road plateaus out above McPherson's Cutting where you'll be rewarded with views of rolling farmland and the Kaikoura mountains.
Best swim:There's a lovely lagoon at the head of Hurunui River and last summer it formed a kilometre long swimming pool. The Gore Bay waves are ideal for a bit of body surfing and the Cheviot Community Pool offers 25m of fresh clean solar heated water.
In tents: The Cheviot Motel and Holiday Park is tucked away at the back of town, with visitors able to stay in the original jailhouse (built 1901) if they fancy while Gore Bay has three small campgrounds to choose from.
Best museum: Cheviot Museum is run by volunteers and filled with all sorts from 'Ready Money' Robinson's day including beautiful costumes and treasures from his house.
Soul survivors: St John's Anglican Church is famous for its stained glass windows by William Morris. There's also a photogenic stone Presbyterian chapel called Knox Church plus a Catholic church.
Art galleries: Cross Roads Gallery represents local and New Zealand artists, while Two Rivers Cafe and The Paddock Cafe cover their walls with art.
Best shops: White Cat Emporium for antiques and curios from France and Italy, or Shop 35 (35 Hall Street) for jewellery and homeware. There's also a four square, hairdresser, hardware, takeaways and petrol station.
Tops for coffee: Two Rivers Cafe and The Paddock make a great brew, as do Magpies Rest Cafe and the Cheviot Tearooms (33 Hall Street) where you can get a super triangle sandwich. At Domett, a few minutes south of Cheviot, you'll find Mainline Station (40 Old Main Road), another fantastic cafe in a converted railway building.
Baking: Grandma's Country Kitchen does all sorts of delicious food including freshly baked bread.
Best food: Try the Cheviot Trust Hotel for pub grub.
Wet your whistle: Mt Beautiful vineyard has opened a tasting room at the Two Rivers Cafe, or if you fancy a pint The Cheviot Trust Hotel does the trick.
Best cycling: There are loads of back country and paper roads for mountain bikers and a fabulous coastal circuit for road bikes. The Kaiwara Valley is a fantastic mountain bike ride and locals are planning to create more off-road opportunities. You'll need to bring your own bike though as there are no rental places.
Best adventure: Head to the Hurunui and Waiau rivers for fishing, kayaking, swimming and jet-boating.
Wildlife: Five minutes north of Cheviot is St Anne's Lagoon, a wildlife sanctuary with impressive deciduous trees and an assortment of waterfowl - if you're lucky you might see Cape Barren geese, dabchicks and royal spoonbills.
Locals say: Too far to commute to Christchurch.
Visitors say: Close enough to the big smoke to enjoy.
Thanks to Ange Davison for sharing the spice of Cheviot life.