Fallingwater is standing the test of time despite doubts, says Heather McCracken.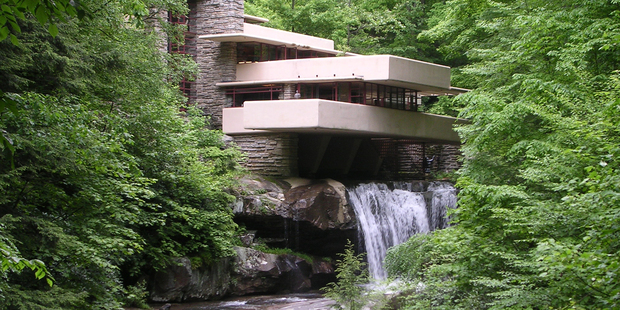 Pennsylvania's Allegheny Mountains are an adventureland for outdoorsy types. They come for skiing in winter, and rafting, hiking and mountain biking in summer.
But hundreds of thousands also visit every year for something much less energetic - a house cantilevered over a waterfall.
Fallingwater, Frank Lloyd Wright's most famous residential design, is tucked away in the forest in adorably-named Bear Run.
The home designed in 1935 for department store magnate Edgar Kaufmann Sr and wife Liliane, is intricately built into a rocky hillside, with balconies and living spaces hanging suspended over the tumbling stream.
Bear Run is about an hour's drive east of Pittsburgh, where the Kaufmanns had their main home. Fallingwater was to be their weekend cabin, but became something much more dramatic - a home that engineers told Kaufmann would probably fall into the creek, but remains standing, and impressing a constant flow of tourists, 80 years later.
The Kaufmanns left Fallingwater to their son Edgar Jr, who entrusted it to the Western Pennsylvania Conservancy in the 1960s. It's now open to the public, with a visitors' centre, cafe, museum and gift shop on site.
The touristy side of things is cleverly kept well out of view of the home itself, which has been preserved just as the Kaufmanns left it, complete with family photographs and trinkets.
Lovers of mid-century design will have a hard time containing themselves inside: it's a treasure trove, from the cushions and furniture, to light-fittings and dinnerware.
It also reveals the uncompromising nature of Wright's design, which made few concessions to practical needs - although one argument the Kaufmanns won was over the size of Edgar Sr's desk: it was expanded (according to tourguide legend) after he complained it wasn't big enough to write a cheque to his architect.
The only sour note in the tour is the compulsory 20-minute video at the end, which is actually a pushy hard-sell for donations. If you can, plead urgent need for a bathroom and duck out early.
You can't take photos inside the house, except on the longer, more expensive tour, but all visitors can walk across the stream and capture the view of the house perched above the waterfall.
Just a few minutes down the road is another smaller, less ambitious, but still remarkable Lloyd Wright design - Kentuck Knob, a three-bedroom Usonian home. Kentuck Knob also has a sculpture garden, which visitors can wander through by themselves, or take a guided tour.
Built in the 1950s for friends of the Kaufmanns, icecream company owners the Hagans, when Wright was 86, it was an example of his design for an affordable, family home.
But it wasn't particularly affordable, and had many impractical details - a tiny, unventilated kitchen, 19-inch wide doorways - that the Hagans insisted on changing.
But those quirks make for a fascinating home to tour. Unlike the Kaufmanns, the Hagans took most of their furniture with them when they left, but it's been refurnished with stunning mid-century pieces.
A nice place to visit, but you wouldn't want to live there.
CHECKLIST
Getting there: Air New Zealand flies daily from Auckland to Los Angeles, with local carriers connecting to Pittsburgh.
Design dream: Fallingwater is open daily from April to November; limited days until March.
Further information: See DiscoverAmerica.com for more on visiting Pennsylvania.