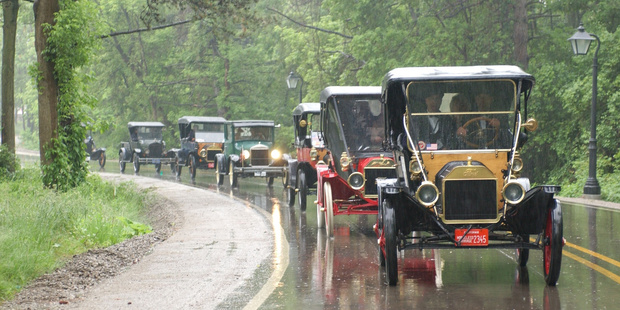 The Henry Ford indoor/outdoor museum complex is home to the first production-line car - a Model T - ever built. Exhibits include John F. Kennedy's presidential limousine, Abraham Lincoln's chair from Ford's Theatre, Thomas Edison's laboratory and the Wright Brothers' bicycle shop.
Next door to the Henry Ford museum, the Automotive Hall of Fame's Auto Hall focuses on the human beings behind the world's best known cars. Inductees include the founders of Benz, Chevrolet, Chrysler, Citroen, Daimler, Dodge, Ferrari, Ford, Honda, Peugeot, Porsche, Renault and Toyota.
Car aficionados will feel at home in the Gilmore Car Museum, billed as one of America's top auto museums and listed as Michigan's No 1 historic car site. Open every day of the year, it houses more than 300 cars and motorcycles. There's a 1930s service station, a functioning 1941 diner where you can stop for lunch and 22 barns filled with 120 vintage autos.
R.E. Olds Transportation Museum
Named for Ransom E. Olds, the founder of Oldsmobile, the museum has thousands of irreplaceable items. It is one of the top-rated automotive museums in the United States and pays tribute to Oldsmobiles dating from 1897 to 2004 as well as a huge selection of automobilia. Michigan also used to have The Walter P. Chrysler Museum but it closed just under two years ago because attendance levels were too low.
Further information: See DiscoverAmerica.com for more on visiting Michigan.