In Dublin, Ewan McDonald settles into the front-parlour of Irish folk music.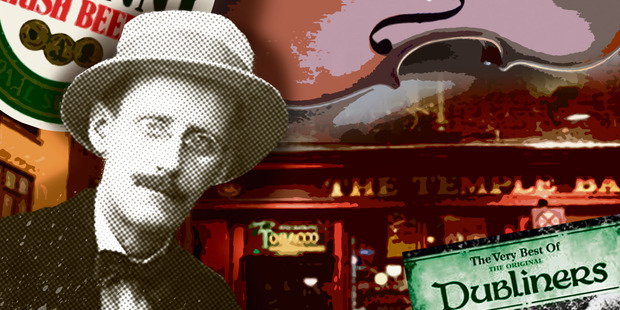 James Joyce peers through bronze spectacles at either the General Post Office, pockmarked from shelling during the 1916 Easter Rising, or McDaid's Pub just a few yards in front of him, so near-blind that he probably can't tell which he's looking at.
It's just after six and most of Dublin is thinking about a quick one before catching the No. 12 bus to Drumcondra.
Not me. Across O'Connell St, over Ha'penny Bridge and through arches and alleys into pub-jammed Temple Bar.
The night is young and so are the two guys playing guitars in the corner of the first licenced premise whose blackboard offers "live music - traditional Irish sounds".
The chat, which I should call craic but we're not doing faux-local, is so loud that I can't make out the words until the pint of Kilkenny clears my eardrums.
"You're my Wonderwall," caterwauls the lashed Aussie, or maybe Essex, woman at the next table.
The lads follow those traditional Irish sounds with rousing choruses of "Didn't I, My Dear?". Mumford & Sons. As Irish as Dexy's Midnight Runners.
This is not what I came to Dublin to hear.
Out, up dusty Suffolk St, across the elegant pavers and boutiques and department stores of Grafton St, dodging the footpath rebuilders' cones to tiny Merrion Row.
To the "blink and you'll miss it unless you know it's there" tavern of O'Donoghue's.
The description on its website is "a historically significant drinking establishment" but that doesn't go one farthing's worth towards the value of this apparently humble bar to Irish music.
It was built in 1789 as a grocery store; that is how most licensed premises in Ireland started life - that or cobbler's or carpenter's or coffin-maker's. It was a public house by the time the O'Donoghue family bought it in 1934.
Fast-forward to the 1960s. The house band was a bunch of mates known, from Joyce's short stories, as The Dubliners, and if all you know of them is the novelty hit Seven Drunken Nights, your musical and your historical education has missed a beat.
They were the first: then Christy Moore, out of County Kildare and built like the rugby prop forward he was, with the voice of an angel; lonely, tortured Phil Lynott; hundreds more black-and-white photos of the walls show who got their break here. Or came here later to play homage.
It's still not eight. I push through the little door into the front bar, all dark and dusty wood and dusky-dark light, where music breaks out every night from nine or so, Irish time.
It's crammed, a good sign.
It's early so I'm more likely to get served in the courtyard; now, the only people playing are the Swansea and Napoli footballers in the European league on the TV. The ambience: beer, smoke and strong whiskey.
The game finishes around 8.45; some leave. Like a nosy whippet who's scented food, I wheedle my way into the front bar.
It's crushed, the people so close that you worry the fiddler might break his arm or worse, his bow.
In keeping with Irish music tradition they sit around a bar table with their instruments and pints.
And then they hit a note, the four of them, the fiddle and bodhran drum and guitar and a penny-whistle chime, and this is what I came across town, across the world, to hear in its front room. One line, one chorus. Choke. Back. Tears.
There will be more musicians, and more tunes, at O'Donoghue's tonight.
Hours later I walk back down Grafton St. A busker is strumming and humming You In Your Fast Car; another, unaccompanied, Dominic Behan's Patriot Game.
Christy recorded his first album with the younger Behan. A middle-aged violinist bows Ave Maria. An aged trumpeter breathes life into Danny Boy.
I'm leaving this city of music tomorrow.
In Marlborough St I say goodnight and goodbye to Joyce.
He loved Dublin, and he loved music. His favourite piece was Gluck's Dance of the Departing Souls.
CHECKLIST
Getting there: Emirates flies daily from Auckland to Dublin via their hub in Dubai.
Ewan McDonald visited Dublin with assistance from Tourism Ireland and Emirates airlines.