Jane Luscombe tries to keep her emotions in check at 30,000ft.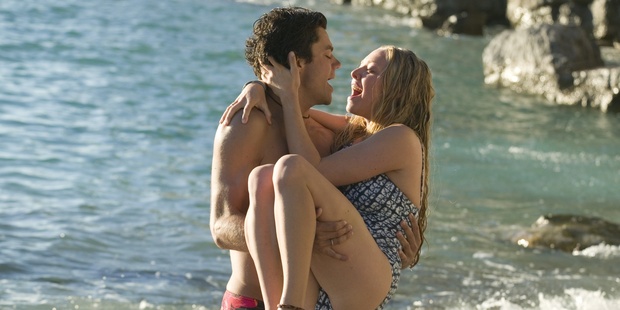 It takes a lot to make me cry. Put it down to my British stiff upper lip or the tough hide that comes from too many years working as a journalist reporting on tragedy and mayhem.
Which is why it was more than a moment before I registered the tears trickling down my cheeks on a flight from Auckland to Sydney. There'd been no heart-wrenching goodbyes at the airport; it wasn't the prospect of visiting Australia, I love the place.
It was Mamma Mia.
The feel-good rom-com, packed with jolly, upbeat Abba songs, had brought me to tears. No, not tears of shame at my movie choice: I was crying happily.
Just to be absolutely clear, I am not one of those people who weeps at weddings, births or any other happy occasion, with the possible exception of Plymouth Argyle winning the FA Cup. I say "possible" because this has never happened, so I can't be certain how I would react.
I've avoided schmaltzy films on planes ever since for fear of a repeat.
But it's not been enough.
Midway through the hideously long haul from London to Auckland, when the very will to live was being sapped from my travel-weary bones, I sought succour from Rush.
It was billed as an exhilarating true story of two of the greatest sporting rivals the world has witnessed: handsome English playboy James Hunt and his brilliant Formula 1 opponent Niki Lauda.
I'm not known for my strong stomach and had been warned it was a tad gruesome in parts. I was already well aware Lauda had suffered terrible burns and almost died when his Ferrari burst into flames in a crash at the 1976 German Grand Prix.
Alas, that didn't put me off.
I had even watched a man in the row ahead of me turn a curious shade of green around the gills, as he watched Lauda writhe in pain, before hiding his face in a pillow. I can't say for sure whether he was sobbing. And yet I still hit the play button.
It started well: plenty of racing action and handsome playboy shenanigans.
But just as the plane started to experience particularly heavy turbulence, poor old Lauda lost control. Watching him burn wasn't easy, but it was a hospital scene that finished me off. As the doctors sucked debris from his scorched lungs, I felt myself fainting.
I managed to thrust my dinner tray into the lap of the passenger next to me, whipped up my tray table and shoved my head between my knees before I blacked out briefly.
To my eternal relief I didn't slump into the aisle and thus avoided the ignominy of a doctor being called or an oxygen cylinder being hauled out.
When I'd recovered fully, I bravely turned the TV screen back on. And selected the PG-rated Cloudy With A Chance of Meatballs 2.
The rest of the flight passed uneventfully.
It turns out I am not alone. A survey by Virgin Atlantic found 55 per cent of passengers experienced heightened emotions while flying.
Forty one per cent of men admitted secretly crying under their blankets, and most women pretended they had something in their eye.
A psychologist Virgin commissioned said long-haul flights allowed for "deep-seated feelings to rise to the surface, especially when triggered by tear-jerking films".
Virgin's response was to issue emotional health warnings before some of its in-flight movies, risky ones like Toy Story 3 and Water for Elephants.
My response: buy an e-reader and hope that books don't have the same effect.