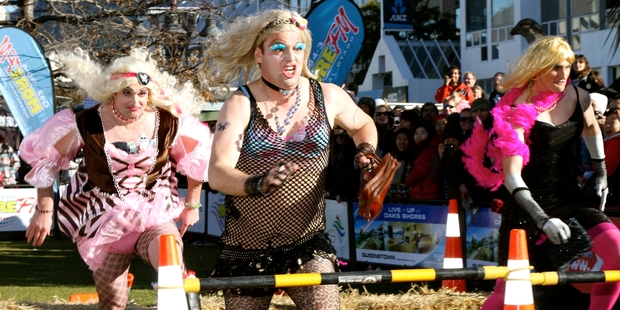 The Queenstown Winter Festival runs from June 20-29. Motorhome Republic have picked their top 10 free events at this year's big party.
1. Opening Party: Kiwi music legends the Exponents kick things off at Earnslaw Park on Friday June 20.
2. Festival Street Parade: A family-friendly extravaganza of colour and noise, at midday on Saturday June 21.
3. iHeartRadio Day on the Bay: A birdman competition, jet-boat challenges, paddle-boarding and ridiculous dress-ups at Queenstown Bay and Earnslaw Park mark the "Maddest day of the year" on June 22.
4. Sunday Session, featuring Ministry of Sound, General Lee and Mikael Wills - two days in, and it's time to boogie on June 22, from 2pm.
5. Metservice Ski and Board Workshop: Expert tips for skiiers and boarders from 5.30pm on June 24.
6. Downtown Day: Another eye-opening afternoon carnival, as gorgeous "Drag Race" competitors dash through town on June 25, from 12pm.
7. Dog Barking: The famous Dog Barking competition is on June 26, at 3pm. The proud pooches need to bark on cue or the owners have to howl themselves.
8. Dodgeball: It's important to exercise ... or at least watch others run around. The Dodgeball competition at midday on June 27 features a "Best Dressed Team" prize. The stakes are high.
9. Mountain Mayhem: Coronet Peak hosts a game of musical chairs given a Winter Festival twist on June 28.
10. Winter Kids Icecream Dig: You'll need to register the little ones for this, if they want to scramble in the snow for sweet treats. There are also other top prizes on offer. Takes place on the final day of the festival, June 29.
Further details: See winterfestival.co.nz or queenstown.com.
Motorhome Republic, in conjunction with Jucy, are offering a 10 per cent discount on vehicle hire between June 15-July 15.