Old and new set sail from opposite sides of the river, writes Carolyn Thompson.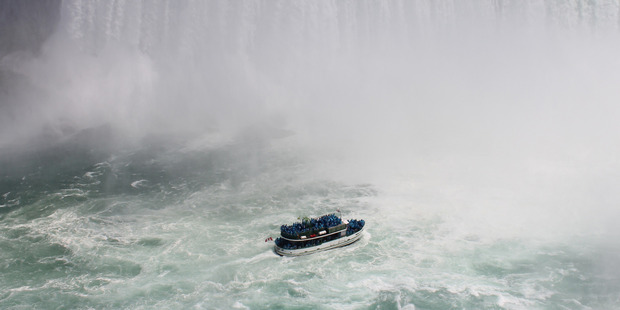 For more than 150 years Maid of the Mist tour boats have been all alone below Niagara Falls as they've ferried tourists close enough to be drenched by the spray.
But this tourist season, a second set of boats is navigating the Niagara Gorge.
The Maid of the Mist Steamboat Co continues to launch from the American shore but lost its Canadian contract to rival Hornblower Niagara Cruises, which set sail from across the river, last week.
The Maid of the Mist, with its two 600-passenger steamship-style vessels, and Hornblower's pair of 700-passenger catamarans offer much the same daytime experience: sailing poncho-clad passengers up to the 16-story walls of whitewater for views unrivalled on land.
Hornblower's $29 million entry into the market includes plans for evening cocktail and fireworks cruises, as well as a redesigned plaza, self-serve ticket kiosks, double-deck loading docks and a pavilion that sells souvenirs by day and becomes a party space at night.
"I'm big on tradition," Hornblower boss Terry MacRae says, "but putting modern amenities in place is good business practice."
The captains agreed to alternate departure times for the 20-minute rides, one loading and unloading passengers while the other makes his figure 8 through the gorge.
Both companies offer online ticketing. Prices are about $20.
- AAP