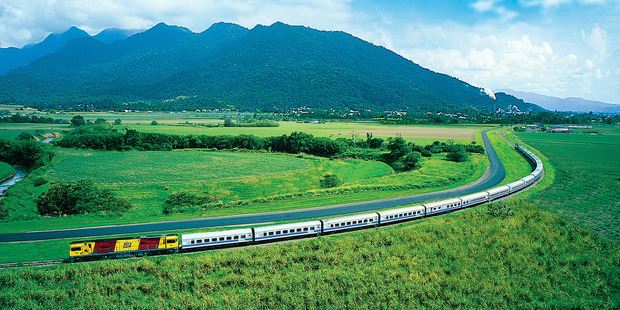 The sun will soon set on a superstar sexagenarian, the Queen of Queensland's rail tracks, The Sunlander.
Currently celebrating its 60th anniversary year, and repeatedly voted one of the world's best rail trips, the need for speed and contemporary comforts will soon consign the charm and character of this time-honoured service to history.
After experiencing this epic excursion between Cairns and Brisbane, it's not hard to see why many train buffs are devastated that the old girl is destined for the scrapyard.
The Sunlander's prime pulling power has been its timeless atmosphere, its connection to the past, and the fair dinkum spirit that resonates on-board.
In the beautifully decorated dining car, I was seated with two sisters from Orange, who bore an uncanny resemblance to Marge Simpson's twin sisters, Patty and Selma.
They revelled in telling me how their brother Bob had a rather unsavoury fancy for freshly-cooked roadkill.
"Bob can't drive past a dead marsupial on the road, without scooping it up and cooking it for dinner," they revealed.
I was pleased I was only eating barramundi for lunch. But they are the larger-than-life type of characters that seem to gravitate to The Sunlander.
Far from being a rest home on wheels, my travelling companions represented a broad church of age groups, including young newlyweds from Korea, Canada and Matamata.
When you're not trading yarns over a meal or drink, the train's ensuite private cabins (in Queenslander class) are a throwback to the 1950s. Think tongue-and-groove cupboards, couch-converting beds in faded brocade, wall-flipping enamel basins that spill their detritus on to the tracks below.
Within this cozy cocoon of privacy, I read, I wrote and watched the unspooling reel of Queensland landscapes unfurl their richness.
Spanning over 1600km - the equivalent of traversing Auckland to Invercargill, the 31-hour journey encompasses a kaleidoscope of scenery. Vast swathes of wheat sway in the breeze, sugar cane fronds, banana and pineapple plantations nod happily in the sunshine and mountains appear on the horizon.
The country town train stations, like Babinda, Bundaberg and Cooroy look like misplaced brooches, loosely discarded across the state.
As part of the Queensland State Government's savings drive to balance the budget, high-speed rail will supplant the more leisurely pace of The Sunlander.
The shiny new Spirit of Queensland service is promising "a speedy trip, state-of-the-art rail-bed seating and superior entertainment offerings".
Contemporary comforts are all fine and dandy, but I'm not convinced about rail pandering to the speed freaks. You could fly between Brisbane and Cairns 15 times, in the time the journey can be completed by rail.
Regardless of the merits of the future rail service, the clock is ticking on The Sunlander. If you do want to ride the rails on this legendary excursion, do it before December 31.
Because that's when this wonderful rail journey ends.