See Bangkok life from different perspectives, says Megan Singleton.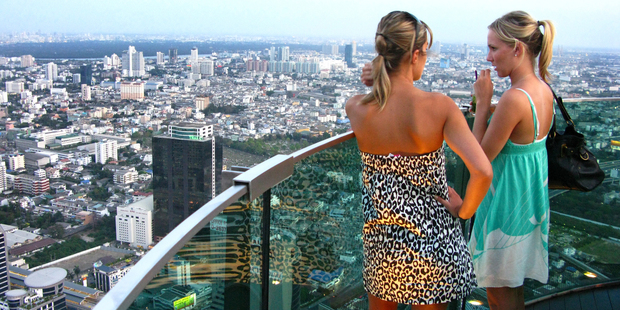 1. Take part in Songkran
The annual Songkran water soaking festival takes place in April, so if you're in Thailand then, you need to either avoid being drenched or get amongst the action. It's about cleansing yourself of the past year's back luck in preparation for the new year. Expect motorbikes to roar by with passengers holding water pistols and complete strangers running up to dump a bucket of water over you.
2. Visit a rooftop bar
Speaking of great places to watch shenanigans, there are several breathtaking rooftop bars in Bangkok. Try Sky Bar for a splash under the stars and amazing views of the Chao Phraya River. You can book for dinner at Sirocco up here too and enjoy the world's highest al fresco bar before or after your meal, all while enjoying live jazz. Here's my blog on three other great rooftop bars to try.
3. Watch some kick-boxing
Not your usual activity when visiting Bangkok, but once you've seen the temples and the Grand Palace (which you must), head out to the new Lumpinee Boxing Stadium which seats 5000 people. Don't buy tickets from touts. Purchase them at the stadium or through your hotel concierge. International visitors pay about $75 to sit within sweat-spray of the ring.
4. Take a klong tour
The Chao Phraya River is the artery of this crazy, busy city and water taxis are cheap and efficient ways to get around. Smaller capillaries, klongs are the watery streets lined with rickety houses on stilts occupied by multi-generational families. Take a longboat tour to see how the other half live, wave to the smiling grannies looking after babies crawling on verandas and marvel at how the overhead lines don't electrocute everyone.
5. Relax with a spa treatment
For absolute luxury, it's hard to beat Thailand. The country consistently wins awards for having the best spas in the world. Try Divana Spa, the winner of several awards, where for about $60-$80 you can have up to two-hour treatments that will set the bar so high you may never be the same again.
Further information: See tourismthailand.org.