Sophisticated cuisine and quaint forest accommodation enthral Paul Davies on Tamborine Mountain.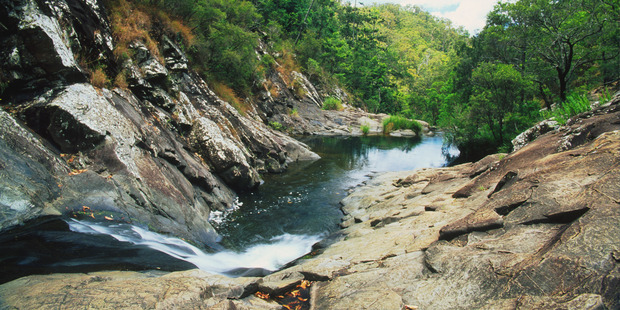 If the big buildings, busy beaches and endless sun of the Gold Coast are somehow taking their toll, then head for the hills - literally.
Just 40 minutes from the beautiful bodies of Surfers is cultured and carefree Tamborine Mountain. Nestled among the cooler climes of native rainforest, the "green behind the gold" is a trio of villages that sit on a 28sq km plateau 500m above sea level.
A tendency by lost Europeans, lured to this land by suave Aussies, to adopt this table-top mountain as their home away from home has resulted in an array of fascinating spots to wine, dine and stay, from Polish restaurants to Swiss-style cottages.
Once you've left the 'burbs behind and start to climb, the farmland turns to rainforest for the path to the top.
Hiding in the temperate wilderness are exclusive six-star luxury lodges with infinity pools and helicopter pads, catering to the world's rich and famous, but options for real people exist too.
Songbirds Rainforest Retreat is luxury accommodation, with an award-winning restaurant having just picked up another Australian Good Food and Travel Guide "Chef Hat" for 2014.
New head chef Steven Hibbard brings his years of running kitchens in Japan back to his hometown to create a sophisticated Japanese-Australian fusion. They've got a vege patch and a greenhouse out back providing a range of herbs and produce for their innovative dishes.
My favourite was the crab risotto-filled tempura zucchini flower served on goat's cheese, just edging out the ever so tender coconut milk-poached chicken breast. There's an amazing array of flavours being thrown around for each course and served with accompanying wines; eating here is an incredible experience.
After feeling very spoilt I head back to my accommodation at Witches Fall Cottages, a tranquil collection of cute cottages with all the modern extras. With spas and a massage service, this is the perfect place to unwind and learn about local legend.
Witches Falls was named by the children of early settlers to the area, who believed that witches resided near their eerie waterfall. The region was dedicated the first national park in Queensland in 1908.
The Witches Fall Circuit winds its way across the side of the mountain to a lookout with spectacular views of the lowlands to the north. Running the 3km track was a great way to get myself up in the morning (and to fight the pangs of guilt from last night's indulgent meal).
After some much needed exercise, I was pleasantly surprised to find a picnic basket left on the table outside my cottage consisting of my morning meal - I say meal because an assortment of cold meats, cheeses, a loaf of freshly baked bread, coffee, juice, yoghurt and, thankfully, plenty of fresh fruit, constitutes more than just a breakfast.
I was able to enjoy this in my private courtyard, which has a small grill for those who choose the "cook your own big breakfast" alternative. It's great for those with a bit more time and you don't have to do the dishes, so there's no stress.
Quite a few artists have made Tamborine Mountain their home and once I was adequately refuelled I ventured over to "Gallery Walk", a street consisting of art galleries, cafes and souvenir shops.
It's worth spending an afternoon perusing this colourful stretch of road, dropping by galleries that show just how much of an influence the surrounding rainforest, wildlife and seemingly endless vistas have on local art.
From here, I head south towards Mount Tamborine village for some culinary inspiration.
Next on my schedule was to master the intricacies of French cuisine at the Tamborine Cooking School. In a stately old manor, former professional chef Terri Taylor teaches enthusiasts how to prepare a cheese souffle, along with other French classics.
In a large kitchen which fits a dozen "students", you learn how to remove an olive stone with ease and flip a crepe in style. Terri aims for low food miles and cooks seasonally, proudly using her own and local produce in her recipes.
There are definitely a few tips to be taken home but it's as much about the interaction with others as it is the whipping of cream. Once the course is over, everyone sits at a large table with a captivating view to sample our creations and get to know our fellow budding chefs.
Prawn and leek tartlets, mushroom pate and salade nicoise are served with wine from Witches Fall Winery, located just across the road from my accommodation.
Eating food you've just prepared down the hall from produce in the backyard and with wine from around the corner - it doesn't get much more local than Mount Tamborine.
CHECKLIST
Getting there: Air New Zealand flies from Auckland to Gold Coast Airport.
Further information: See visitgoldcoast.com and tamborinemtncc.org.au.